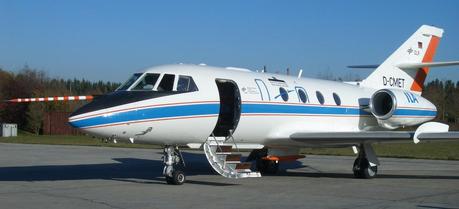 The DLR research aircraft Falcon 20E. (Credit: German Aerospace Center)
The German Aerospace Center (Deutsches Zentrum für Luft- und Raumfahrt; DLR) has entered into an agreement with NASA to conduct a series of joint research flights aimed at testing alternative aviation fuels.
During the flight tests, which will be headed by NASA, the emissions properties of alternative aviation fuels and their effects on the climate and atmosphere will be studied. DLR will participate with its Falcon research aircraft in the approximately two-week-long air campaign. The start of the joint test flights as part of the ACCESS II (Alternative Fuel Effects on Contrails and Cruise emission) project is scheduled for 7 May 2014. The starting point for the flights will be the NASA Armstrong Flight Research Center in Edwards, California.
"The cooperation between DLR and NASA is based on a strong mutual appreciation of our research work," said Rolf Henke, the DLR Executive Board Member responsible for aeronautics research. "We are very pleased to be performing joint test flights for the first time, and thus set an example by addressing pressing research questions in global aviation together," Henke continued.
"Partnering with our German colleagues allows us to combine our expertise and resources as we work together to solve the worldwide challenges in aviation related to emissions and fuel economy," said Jaiwon Shin, NASA's Associate Administrator for Aeronautics Research.
In the flight experiments, a modified engine on a NASA DC-8 will be tested with various alternative fuel mixtures, while the DLR Falcon flies behind and examines the emissions, in particular soot particles, and the resulting condensation trails. In addition, a Canadian National Research Council (NRC) T 33 will support the measurements.
Researchers from the DLR Institute of Combustion Technology and the DLR Institute of Atmospheric Physics are working on environment friendly and sustainable synthetic alternatives to the conventional aviation fuel, kerosene. It is expected that the combustion of alternative aviation fuels will release significantly lower quantities of carbon particulates and sulphates and organics. In addition, the researchers are examining changes in the condensation trails. While there might be less carbon particulates, larger ice crystals could form with different radiative properties.
The results of the joint flight tests performed by NASA, DLR and NRC will be discussed at the next summit of the International Forum for Aviation Research (IFAR). An international team of 23 IFAR member states will receive access to the results of the research project.