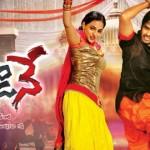 Story:
Surya (Nara Rohit) is the only son of forest guard Sivanna (Nagababu). Sivanna has two daughters too one of whom is married and other is about to get married. It is the second daughter who takes the story forward as she is in love with son of social activist Sivaji Rao (Saikumar). Sivaji Rao doesn't like their marriage but agrees to it verbally only to later show the ugly side.
Sivaji Rao (Sai Kumar) has a daughter too who is none other than Nithya Menon. The rest of the story is a typical revenge drama that can be anyone's guess.
Performances:
Nara Rohit who has so far done two movies takes a back step with this film. He appears clunky while trying to mass and pass off as mass hero.
Nithya Menen is fine once again. She doesn't get an author backed role this time though like she usually gets but she is fine nonetheless in whatever she has.
But the real acting honor of the film goes to Saikumar. He is splendid and once again makes one remember how under utilized he has been in Telugu cinema. It's a typical character but the actor brings in his own mark into it.
Nagababu is alright. He gets a big fight sequence for a change after a long time and he did well in that. Kota Srinivas Rao and Chandramohan are adequate as always and do their job effectively.
Comedians Brahmanandam, Ali and MS Narayana are present but they aren't that effective. Srinivas Reddy provides few laughs.
Positives:
Introduction scene of hero in entire first half.
Fight sequence involving Nagababu in entire second half.
Negatives:
Old fashioned story
Low production values
VERY Slow paced narration
Background score
Inept handling of predictable story
Analysis:
With a story like that it is mandatory that the pacing of the film is past and comedy clicks. Here the director fails on both the counts. The film drags on and on that one feels like watching en entire film by the end of the first half itself. Now imagine what kind of a second half would make one feel this first half to be better one. That is how bad the film is overall and it's all due to the execution more than the actual story as we see many such predictable stories all the time.
Music by Karthik is alright as standalone album but in the cinema it adds to the overall dragging nature of the film and makes one restless. Even the Background Music by Chinna fails to create any impact.
Cinematography is poor and this coupled with low production values makes one feel like watching a short film video at times. Editor should have been ruthless as the film could have done well by being at least twenty minutes shorter.
Amidst such mayhem dialogues by Chintapalli Ramana provides some relief here and there.
Bottom-line: 'Okkadine' is a destruction machine off to kill audience literally.
Rating- 1/5