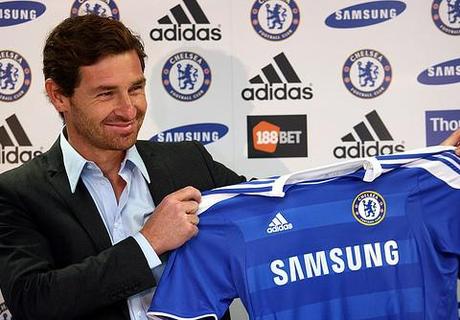 Andres Villas-Boas is unveiled as Chelsea manager. Photo credit: The Sport Review http://www.flickr.com/photos/[email protected]/6144390163/sizes/m/in/photostream/
Chelsea travels to Naples for its crunch UEFA Champion's League first-leg tie versus Napoli in a state of crisis. Manager Andre Villas-Boas is reportedly at loggerheads with a a number of senior players and is trying to suppress a dressing room mutiny. It is widely believed that he could well lose his job if the Blues do not perform an awful lot better in Italy than they did in Saturday's
listless 1-1 home FA Cup fifth-round draw with Championship side Birmingham
.
A number of senior Chelsea players reportedly confronted Villas-Boas at a team meeting on Sunday, disputing his methods on issues ranging from man management to tactics. Worse still, Villas-Boas had to deny reports that Ivorian striker Didier Drogba had given the team talk at half-time of the Birmingham game.
Regardless of the pressure he is under, Villas-Boas is convinced he's still the man for the job. "I'm not concerned about [what the players think]," Villas-Boas said at a Thursday press conference. "I have the full backing of the owner (Roman Abramovich) and it is down to the owner to make the decision on how much further he wants to go with the running of the actual project … my authority is total, because it is the owner's authority."
Villas-Boas is right (and brave) to take on the players. Sam Wallace of The Independent applauded Villas-Boas for having the balls to take on the big personalities in the dressing room: "Slaying the beast of player power at Chelsea was never going to be easy but so much better to attempt to do so than just sit back, go with the flow and try, as other Chelsea managers have in the past, to placate both the bolshie dressing room and the demanding owner. For those who diminish Villas-Boas one can only respectfully point out that a manager who is prepared to take a hard-line stance with the Chelsea dressing room is exactly what the club has been needing since Jose Mourinho's departure." Wallace suggested Chelsea supporters should show a little more patience: "If the price to pay for changing the club and ending the reliance on the old regime of players is one season without a trophy then, quite frankly, would not Chelsea supporters accept that? If it takes two seasons for Villas-Boas to make the transition from relying upon the old boys of the Mourinho era to building a solid base for the next generation then so be it."
"It is curious that while everyone accepts that Chelsea's team has to be overhauled if it is to have any longevity, the first man attempting to do so without mollifying the established stars such as Frank Lampard, John Terry and Didier Drogba is held up as a figure of fun," sighed Sam Wallace of The Independent. "Anyone can see that rebuilding Chelsea is going to take a good deal more resources. In the meantime it is hard going."
AVB: Supreme bluffer. Writing at The Daily Mail, Des Kelly marveled at Villas-Boas' remarkable self-assuredness: "He's been throwing out ultimatums from what appears to be a position of serious weakness for days now without a flicker of self-doubt. According to AVB, he is absolutely sure owner Roman Abramovich is fully behind him." Kelly remained unconvinced that Villas-Boas' safe is indeed as safe as he makes out, and insisted that, "the players have to believe in him or Chelsea will fail. They have to have complete confidence in his method or 'the project,' as he calls it, goes under. There is no real indication the players have signed up to AVB's scheme as yet and no real evidence of what that grand plan actually is. Even so, he continues bluffing like a master, announcing that the playing staff 'do not have to back my project' because the owner is the only man that matters. It is an extraordinary remark. Villas-Boas had better hope Abramovich has brought his boots then, because it is a risky ploy to set himself at odds with the dressing room."
The bookmakers don't rate Villas-Boas' chances of clinging on to his job. He's a best-priced 6/5 red-hot favorite to be the next Barclays Premier League manager to leave his post.
Players must play for the shirt (even if they hate Villas-Boas). At The Daily Telegraph ex-Liverpool defender Alan Hansen insisted, "it is time for his players to stop moaning, end the factions and perform for the club, even if they genuinely dislike the manager. Maybe it is time for them to remember that, while they have been good for Chelsea, Chelsea have also been good for them in recent years." Hansen said "for any manager to succeed, he simply must have the players with him. Once you lose the players, you have lost everything." But the Anfield legend noted that, "players can dislike a manager, they can even hate him, but as long as the central characters within the dressing-room are prepared to trust and rely on the man in charge, those players' quality will always have a chance of producing positive results."