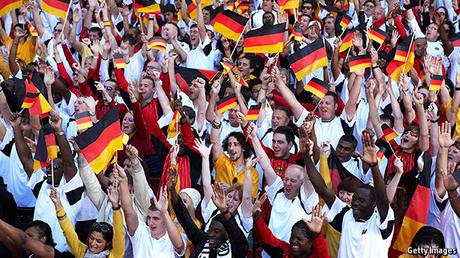 All cheering for the same team
IN TERMS of diversity, the German squad that will travel to France for the UEFA football championship next month leads the national trend. About one in five Germans has a so-called "migration background", but nearly half the national team does. The names on the jerseys include Boateng (Ghanaian), Mustafi (Albanian via Macedonia), Bellarabi (Moroccan), and Khedira (Tunisian). Even some of the German names belie foreign origins. Antonio Rüdiger's mother is from Sierra Leone. Bernd Leno has Russian roots.
When Germans talk about ethnic origins, they contrast the term "migration background" with its cheeky antonym, bio-deutsch ("organic German"). This reflects attitudes toward nationality that are both controversial and in flux. By tradition, Germanness has always been an ethnic identity, based on shared descent or "blood". But today Germany is becoming a multi-ethnic society like other Western countries. This raises the question of how the state should officially treat the categories of "bio" and "migrant".
The pressing issue this year is how to count them…