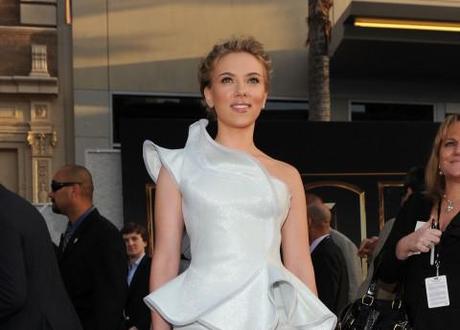 Actress Scarlett Johansson (with clothes on). Photo credit: Michael Buckner/WireImage
Hollywood actress Scarlett Johansson has called in the FBI to investigate how photographs she took of herself in the nude have found their way on to the internet. The two photos, which show the star topless in bed and posing nonchalantly in front of a mirror, hit US websites yesterday and sent Twitter into overdrive. Their provenance quickly came into question.
Johansson's lawyer, Marty Singer, has confirmed the pictures are real: "The highly personal and private photographs at issue capture our client self-posing in her own home in a state of undress and/or topless." Living up to his pitbull reputation, he demanded that all websites carrying the images immediately withdraw them, or face legal action: "If you fail to comply, you will be acting at your own peril. Please govern yourselves accordingly."
It is thought that the photos have been hacked from Johansson's iPhone. Several other stars, including Miley Cyrus, Jessica Alba, and Christina Aguilera, have been similarly stung. What does this latest case of phone-hacking say about the boundaries of celebrity's privacy?
While no organisation has yet claimed responsibility for the hack of Johansson's phone, Anonymous offshoot Hollywood Leaks could possibly be behind the hack. They recently announced their attention to "open fire" on Hollywood.
Just don't take them. Fleshbot (NSFW) had its illicit cake and ate it, publishing both the pictures while stating anxiously: "If even the notoriously private Johansson isn't safe from hackers prying fingers … well, who is?" A somewhat priggish security expert at The Sun suggested that the only way to stay safe these days was to stay clothed: "I hate to point out the obvious, but not taking nude photos on your phone is your first line of defence."
Wicked-leaks. Both the Scarlett Johanson pictures and the recent film of NYPD officers "daggering" at a West Indian Day parade first showed up on worldstarhiphop.com, a niche video site. Elizabeth Flock, in a blog at The Washington Post, compared the site to Wiki-leaks, "only a little less classy".
Open to the gaze of millions. Many (ostensibly male) commenters have been less concerned by the ethics of this particular invasion than other recent, less salacious, scandals. Twitter is awash with posts along the lines of "Phwaooor". Some outlandish theories were posited as to the timing of the leak. At Twitter, GuyEndoreKaiser tapped his nose knowingly: "Just realized, with a crystalline certainty, that Scarlett Johansson leaked her own photos to distract us from the We Bought a Zoo trailer".