A prominent Vienna museum has decided to cover the "intimate parts" of three naked male football players on big posters displayed in the Austrian capital after they caused an outcry.
"We got many, many complaints," Leopold Museum spokesman Klaus Pokorny said about the public display of the placards used to advertise our 'Naked Men' exhibition which is due to open on Friday. Pokorny added: "We are not really happy about the situation. You always hope that we have made progress, that we are now in the 21st century.
The exhibition, which will run until January 28, is designed to show how the depiction of male nudity has evolved in art history. Previous exhibitions on the theme of nudity have mostly been limited to female nudes," the Leopold said on its website "But with thanks to loans from all over Europe, the exhibition 'naked men' will offer an unprecedented overview of the depiction of male nudes."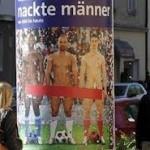 Around 300 artworks – including the controversial photograph by French artists Pierre & Gilles called "Vive La France" of three men of different races wearing nothing but blue, white and red socks and football boots - will be on display.
Should you wish to re-create your own version of "Vive La France" in the comfort of your own home at www.socksupermarket.com we stock Men's Horizon Football socks.

These one size, six color option club team wear socks have many features to ensure you get the best performance possible. Simply say 'cheese'! Another curious fact is that Leopold our very own March 2012 Sock Monster shares the same name as the exhibiting Gallery. And as a final sign-off we at socksupermarket would like to ask that you be slighlty patient when ordering from us (just over the next few days that is) as a few girls in the office have taken themselves off on a short break to …….. Austria (we can't think why).