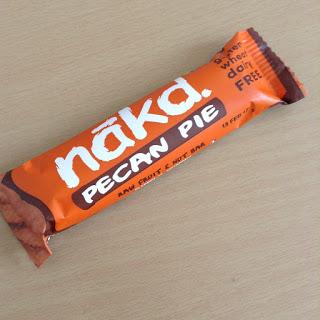 I'm secretly quite a fan of Nakd bars...not only are they gluten free (a biggie for me!), they're dairy free, vegan and refined-sugar free to boot. Woo! Sadly they're not nut-free, so those who go pop from nuts step away now! I do have issues with nuts myself, particularly macadamias, but lately I seem to be doing ok with the lesser nuts. Nakd bars are predominantly a mixture of cashews and dates, which touch wood I am ok with thus far. 
I've been after this Pecan Pie Bar ever since I first noticed it...I do love pecan nuts especially combined with sweeter flavours, and I wondered how Nakd might recreate pecan pie in bar form. I spotted this along with the Cocoa Mint variety in Waitrose so couldn't resist snapping up both! (Stay tuned for a review of Cocoa Mint).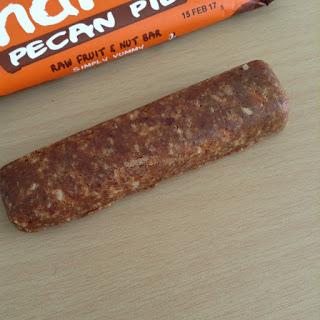 This bar contains a mixture of dates, pecans and almonds, and nothing else. I kinda expected the addition of a flavouring such as cinnamon or cloves, since pumpkin pie would traditionally contain those spices. 
Despite the lack of spice, this bar was verrrry tasty and had a lovely sweet pecan flavor. I think the "pie" part is supposed to come from the combination of sweet and nutty flavours, and it works really well. I do think a touch of spice might improve it further, but as it stands this is by far one of the tastier Nakd bars out there. Definitely one for lovers of pecan nuts! 


8 out of 10.