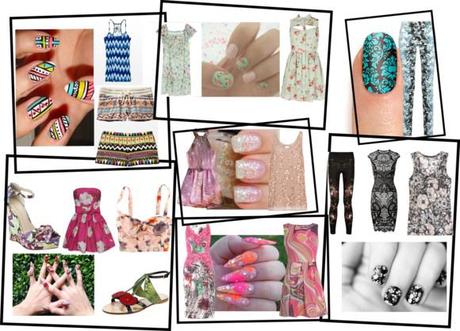 Nail Art/ Fashion trends by stylescribbles featuring neon dresses






Cut out dress
£32 - lavishalice.com


Abercrombie Fitch cotton dress
$78 - abercrombie.com


AX Paris neon dress
£18 - axparis.co.uk


Vintage style dress
$127 - oasap.com


Christopher Kane multi colored dress
$1,178 - matchesfashion.com


Christopher Kane floral tank
£99 - net-a-porter.com


Reiss scoop neck shirt
$105 - reissonline.com


H M floral top
£20 - hm.com


Aztec French Terry Short
$20 - garage.ca


Aztec Racerback Cami
$6 - garage.ca


Alexander McQueen high rise legging
$685 - net-a-porter.com


Sass & Bide sequin shorts
£340 - net-a-porter.com


Nine West wedge heels
$59 - ninewest.com


T strap flat sandals
$595 - bergdorfgoodman.com


NcLA nail treatment
$9 - karmaloop.com
Today is all about NAIL ART, it is so big right now, the last time nail art was a big trend was way back when I was in school, after that it kind of evolved into neutral shades, french manicures and solid colors. Slowly again it emerged out of the 'only for teenaged rebellious daughters' tag and is now everywhere, from the red carpet to the shady manicure parlour down the road from me. And even though I like to keep it simple (for a few very important reasons) mostly because my nails are tiny and square, like a school boy's but also because I cook often, and end up spoiling my expensive little gig in a day or two. But also another reason being I am very impatient and hyper (as in can NOT stay still for long) especially right after a fresh coat on my hands I will get this urgent urge to pee! :/ I am hopeless that ways.


But, we are not here to discuss my nails, so let's talk about the pretty ones all over instagram and blogs right now!


The most fascinating thing for me is that nail art this season is so much inspired by the runway trends...If you look at the little collage I created on polyvore (posted above) you'll see all the major trends are visible. Starting top left-going clockwise, we have

Tribal/Ikat/Aztec, Vintage/Pastels, Floral/ Motifs/Tattoo, Black'n'White/ Florals/Monotones/Greys, Shimmer/Sequins, Neon/Galactic/Swirls, Big-Bold and Colorful Florals

.


Now, all of these above mentioned trends are doing big rounds across the streets, on the runways and the high end circles-to-the fret parties this summer. If you pick any of your favorite nail art/ design you can actually work a whole outfit around it, or do it the other way round.




You can also match your nails to your accessories and keep a simple solid or the forever-in-trend all white look in clothes.


Just remember do not overdo all the patterns and prints together, although you can go ahead and try to mix patterns and prints (or mix checks/ stripes with bold florals). Another look you should try it mixing bold graphic prints with textured solids, this style will look good also when done with neon color scheme.
Happy Summer EveryOne!
And hang in there....it's almost weekend now :P xoxo


P.S. I just realized today, how many pretty shades of nail enamel I had thrown in the junk or simply given away, while packing to move out of South Africa. :( There just WASN'T enough space!!! I did a horrible fashion SIN... now I'm missing them all, especially a particular shimmery/ glittery rock-star nail enamel.