As the

announcement below

confirms, Ballet Philippines is re-staging the pop-opera ballet Rama, Hari in November-December this year. Why am I all excited about this? Because the last time anyone saw Rama, Hari was 22 years ago, during its original run at the Cultural Center of the Philippines, when Marcos was still president and some of us hadn't even been born yet. (Okay, I was already 10 years old then, drat.)
Wait--but wasn't there something like it at the UP Theater in 1999? If you're thinking of Rama at Sita, no, that was a different production--a musical that borrowed (with the permission of composer Ryan Cayabyab and librettist Bienvenido Lumbera) Rama, Hari's original songs (among them Halina sa Mithila, Awit ng Pagsinta, Magbalik Ka Na Mahal) and grafted them onto a new score penned by Danny Tan, Roy Iglesias and Dodjie Simon. Same source story, different treatment.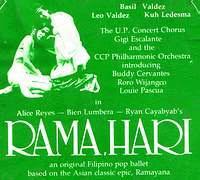 From an

earlier post

: Rama, Hari, the 1980 pop ballet by Alice Reyes that featured the music of Ryan Cayabyab and libretto by now-National Artist for Literature Bienvenido Lumbera, retold in song and dance the Indian epic Ramayana. The fabled, one-time run of Rama, Hari offered three of that decade's signature talents: a stunning Kuh Ledesma in the role of Sita, Basil Valdez as Rama and Leo Valdez as the villain Ravana. Ms. Ledesma was then on the cusp of superstardom following her stint as lead singer of the popular showband Music & Magic. Soon she'd explode with her first big hit, Dito Ba, and the rest would be history.
Rama Hari's most famous song is Magbalik Ka Na, Mahal, a song forever associated with Ms. Ledesma. Ryan Cayabyab's enchanting melody, vivified by the poetic yearning of Bienvenido Lumbera's words, made for an instant classic. Mr. Lumbera's lyrics are, in fact, some of the great wonder of Rama Hari. In Awit ng Pagsinta, sung to mark the union of Rama at Sita, the experience of love so great that it crosses over from the ecstatic to the ineffable is rendered in highly charged verses:
Init ng hininga, darang sa pandama
Tumatagos sa kaluluwa
Ang pansamantala'y naging walang hanggan
Bango ng champaca, awit ng pagsinta
Nalimbag sa alaala
Ingatan mo sana at nang magkabunga
Ingatan mo, ingatan mo sana!
So, to mark the impending return of Rama, Hari--here, back on YouTube from my baul (and by special arrangement with Mickey Munoz of ABS-CBN) is a video clip of Kuh, Basil and Leo, in a rare reunion, singing excerpts from Rama, Hari during the birthday tribute concert to Ryan Cayabyab at the CCP in October 2004.
"Only one other Cayabyab musical, 'Rama Hari,' was featured in the program," I said in my review then. "But this one was distinguished by the appearance of [Basil] Valdez, Kuh Ledesma and Leo Valdez in the roles they had originated. Needless to say, seeing these three musical institutions in one number was a thrill." (AD 92 provided the backup vocals, while the fabulous set design was by Gino Gonzales.) Enjoy!