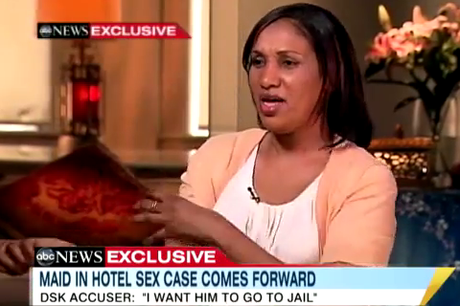 Nafissatou Diallo, Strauss-Kahn's accuser, speaks to ABC News.
Nafissatou Diallo, the Guinean chambermaid accusing former International Monetary Fund head Dominique Strauss-Kahn of attempted rape, waived her right to anonymity this week and went public with a series of interviews with American media outlets. And in so doing, she's made an already complicated story even more complex, raising questions of credibility, publicity, power, and the media's role in the public perception of sexual assault claims.
Diallo claims that when she came to clean his suite at the Manhattan Sofitel Hotel on May 14, a nude Strauss-Kahn assaulted her and forced her to perform fellatio on him. Based on her claims, Strauss-Kahn was arrested that day and, after a brief stint at Riker's Island prison, was held under house arrest. That is, until the Manhattan District Attorney's office acknowledged that it had concerns about Diallo's credibility, including her links to an incarcerated drug-dealing boyfriend and a tape-recorded conversation with him in which she allegedly made it clear that she knew Strauss-Kahn was wealthy. Strauss-Kahn was released on bail following the claims, indicating to many that the DA's case was collapsing, as the public narrative swung from powerful man assaults poor woman to grasping woman targets powerful man.
Speculation abounded that the office was planning on dropping the case and some wondered if Strauss-Kahn, who had been a contender for the French presidential election next year, could make a political comeback.
"I want him to go to jail," said Diallo.
Now, Diallo and her lawyer, Kenneth Thompson, appear to be launching a campaign to win credibility in the court of public opinion, the only court, it seems, that people care about. As Diallo gives interviews to Newsweek and ABC News, her lawyer meanwhile claims that the phone call, conducted in her native language, in which she allegedly said, "Don't worry, this guy has a lot of money" was mistranslated. He also said that they will be filing a civil suit against Strauss-Kahn in the very near future. At the same time, Strauss-Kahn is facing allegations of sexual misconduct, "forceful love-making" and extra-marital affairs, possibly sinking any comeback plans.
Putting pressure on the Manhattan DA. Media reports are suggesting that Diallo and her lawyer's decision to go public is calculated to put pressure on the Manhattan DA's office to continue to prosecute the case. The Times (£) reported that the decision has "infuriated" the DA's office, while Ashby Jones, writing at The Wall Street Journal's Law blog, claimed that the move exposes a rift between the accuser and the DA. But can the maneuver work? Said Jones, "It's certainly not a foolproof strategy. For starters, say criminal-defense experts, the Manhattan DA's office, run for decades by legendary prosecutor Robert Morgenthau, is known for acting independently of public pressure. And no prosecutor wants to appear to look like it caved to a strategy orchestrated by a lawyer — especially in so high-profile a case."
Opinion turning in France. But while the move might not play well in Manhattan, the tide of public opinion is already turning in France, The Times (£) reported. "Though her interview may have endangered the prospects of a criminal case, potentially introducing new inconsistencies into the public record, it also appears to have dealt a fatal blow to the former IMF chief's credibility in his homeland," the paper declared, claiming "even Mr Strauss-Kahn's most fervent admirers admitted, in private, that his unbridled sexuality made him unfit for presidency." French newspapers remain divided over Diallo's credibility – one commenter said she "played less well than in a reality television programme", while another people called her account "strong and very disturbing" – but it looks like a DSK comeback isn't in the cards yet.
The alleged timeline of events of May 14, according to Newsweek.
Diallo has much to lose. Alexandra Frean, in an op-ed for The Times (£), seemed squarely on Diallo's side, noting that wealthy, connected Strauss-Kahn seems to have eased back into the life of the French elite and that Diallo has much more to lose by coming forward. "[Diallo and her lawyer] are right to remind the DA, and the rest of us, just what is at stake here and why we should not let questions about her asylum application, or some of her less salubrious associates, affect the case," Frean wrote.
The day Diallo broke her silence, US Esquire tweeted, "How to get a better blowjob than #DSK", with a link to an article about the etiquette of receiving said act. Harriet Walker in The Independent was not amused.
Her word on trial. Zoe Williams, writing at The Guardian, acknowledged that in cases such as this, in which it's one person's word against another's, the credibility of the accuser is necessarily called into question. "What is not understandable is the fact that Diallo's credibility – which is undermined here by hints about her trustworthiness in a range of situations rather than any evidence about her sexual behaviour – comes under so much more scrutiny than Strauss-Kahn's." It comes down to how Western society thinks about sexual assault claims: The accuser must be both beyond reproach and beautiful, while the alleged rapist must be so vile that no one could believe he'd get laid any other way than by force. "Diallo said when she found out who DSK was she was frightened for her life: if it had happened in Guinea, with 'a powerful man like that', she would have been killed. In the brave western way, nobody has to silence a complainant so crudely. Incredulity is enough."