To see the Seoul skyline, head on to N Seoul Tower or Namsan Tower as the locals call it. You can either take the bus or get on a cable car. 
We took the cable car on the way to the tower and the bus on the way back. Though the cable car is more expensive than taking the bus, it is faster. It was a very short ride and the car was packed to the brim. Good thing we got on first so we almost had our faces pressed to the glass, but better than somebody's armpit as our view.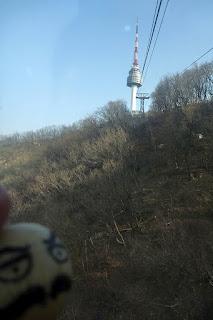 Taking the cable car to the tower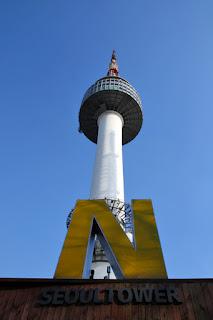 Let's go up top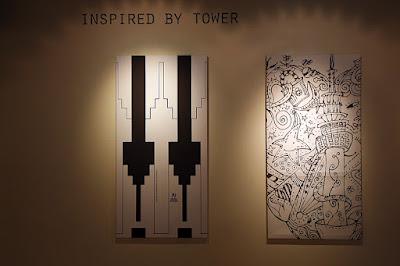 Inspired by the tower
Locals say the view is best at night. If you want to see the skyline when it's still light out but also want to see Seoul sparkling at night, go at least half an hour before sundown. Common sense.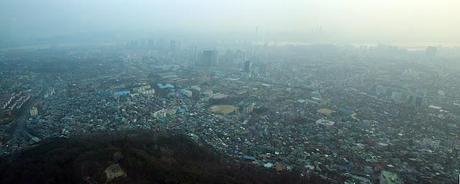 All grey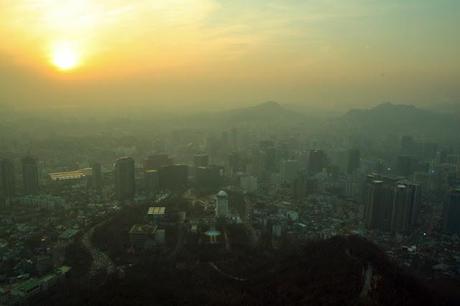 Waiting for sundown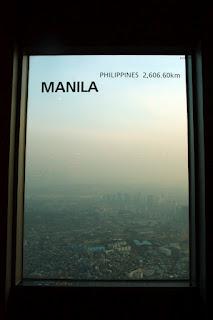 I am 3,000 km from home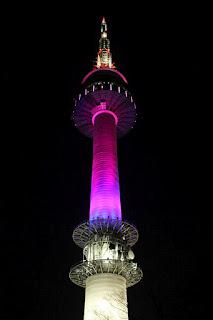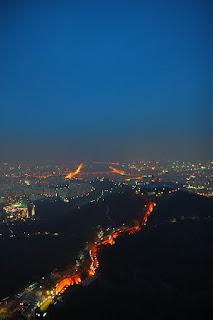 Lights on!


What else can you do at N Seoul Tower (which I was too cheap to do)? Spend money on food, check out the teddy bear museum, and buy an expensive lock to hang on one of their lock trees. It is said that if lovers make a wish at Namsan, it will come true. If you and your lover plan to chain your love on their trees as a symbol of forever, bring your own lock and pen (unless money is no object). There were some people who probably forgot to bring a lock that they used their cellphone case, keychains, and even a small broom and dustpan.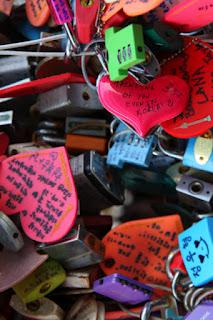 Locks of love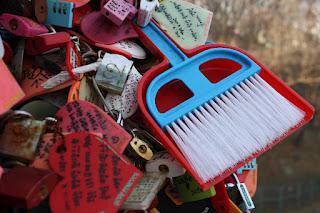 Hmmm...a broom and dustpan...?Photo by Ayin Ersando
N Seoul Tower
Find your way: Take the subway to Myeongdong station (line 4/light blue), exit 3. Walk about 10 minutes to the cable car station. If you'd rather take the bus (cheaper!), take the subway to Chungmuro station (line 3/orange or line 4/light blue), exit 2, and hop on the yellow bus no. 2. You can also get on yellow bus no. 2 at Dongguk University station (line 3/orange). Yellow bus no. 3 can be found at exit 4 of Itaewon station (line 6/brown) and exit 2 of Hangangjin station (line 6/brown).Admission fee: 9,000 won and cable car ride costs 6,000 one way / 7,500 roundtrip
Hours: 10AM to 11PM daily (closes at midnight on Fridays and Saturdays)
While you're in the area, why don't you drop by:Myeongdong (shopping)Namdaemun Market
South Korea Series:Tourist Visa to KoreaRandom Things About KimchilandFrom One Point to AnotherHomes Away From HomeMy First Meal is Not KoreanYou Will Never Go Hungry Here To the North We Go...Almost
Strolling, Collecting Sights 
A Dose of History: Gyeongbokgung
Double Dose of History: Changdeokgung & Huwon
Photo Stop: Bukchon Hanok Village
Care For Some Coffee?
Step Back in Time at the Folk Village
Trick Eye Museum
N Seoul Tower (you're here!)