The mystical Mamuthones from Mamoiada have always stirred my soul and made me question the origin of their existence. I have attended festivals in Sassari and Olbia where the Mamuthones preformed before the inquisitive public, but I had never witnessed their ritual dance in their town, on their turf, until this past Sunday when I attended Tappas in Mamujada. There is something so raw and connected to nature in their dance that pulls me in, curious, wanting to know more. So I went searching …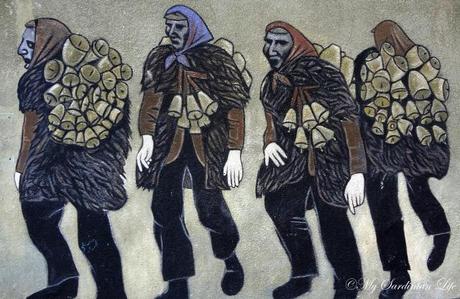 Mural in Mamoiada
The Mamuthone legacy is shrouded in secrecy and there is little documented evidence on their origins; some scholars argue that the Mamuthones had already marched in the nineteenth century while others argue that the ritual dance and parade goes back even further, to the Nuraghic Age. Others argue that it's a festival to celebrate the victory of the Sardinian shepherds (Issohadores) against the Saracens invaders who imprisoned the Mamoiadini (citizens of Mamoiada) and led them in procession to an awaiting cold chamber.
The masks and dress of the Mamuthones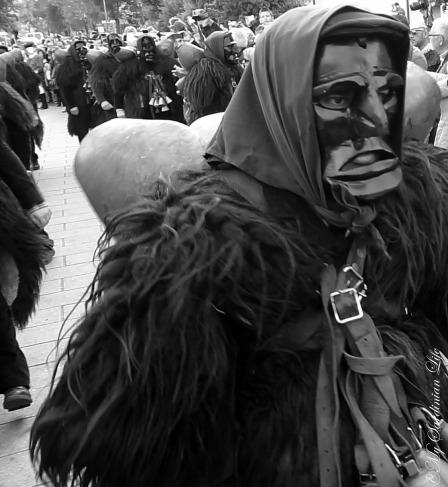 The masks are made from the fig, elm, chestnut or walnut tree and are blackened to give off a phantom of a presence. The dress is made from black sheep skins which are heavy and weigh down the Mamuthone, arranged on the back are a series of bells (carriga) which are said to scare away evil spirits.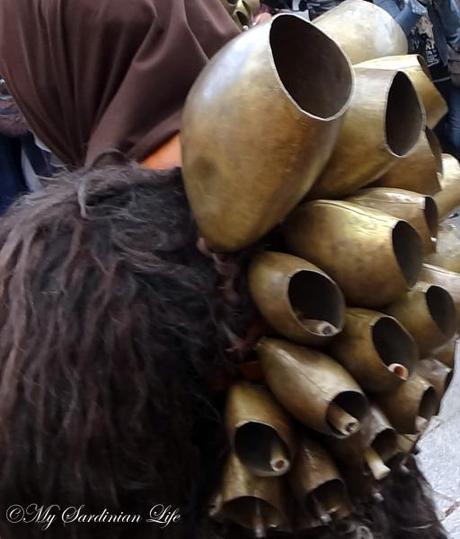 Where there is a Mamuthone there is an Issohadore.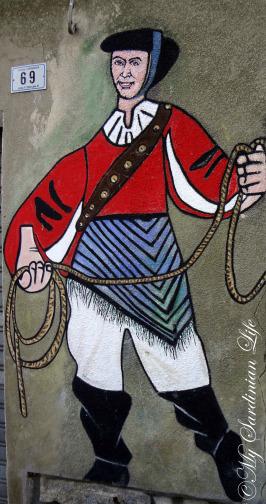 Issohadores mural at Mamoiada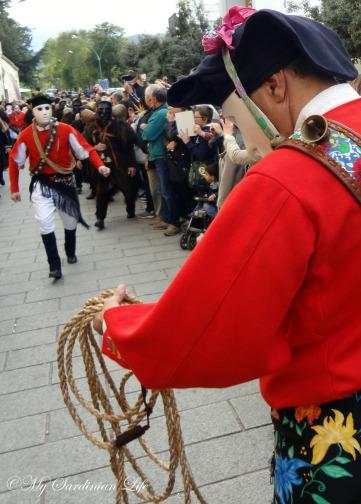 Issohadores in action
The Issohadore are in charge of the ritual, and with one command or gesture of the head they set in motion the rhythmic dance of the Mamuthones. It's the Issohadore's job to protect the Mamuthones against the curious public during the parade. They are often seen with lasso in hand wrangling in the female population as a sign of good health and fertility. The Issohadore has a colourful costume of a headdress, white mask, a bright red waistcoat, white shirt and trousers, gold buttons, a band of bells in bronze, shawl, woolen leggings, leather boots and finally the rope or lasso.
Five and a half years was worth the wait to have this amazing memory and photo.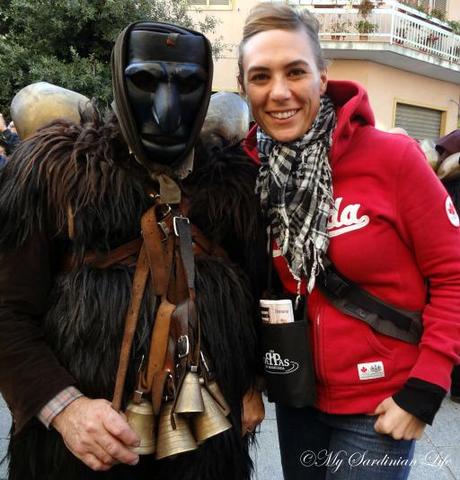 The best time to see the Mamuthones and Issohadores in action is at Carnival in February at Mamoiada or the yearly event I attended the Tappas in Mamujada in November.
There is much more to Sardinia than just white sand beaches, umbrellas and fabulous food. The next time you're here, why not take a trip to the center of the island to Barbagia and maybe, just maybe you can witness the mystical Mamuthones from Mamoiada
© My Sardinian Life/Jennifer Avventura. All rights reserved 2010-2013. All pictures, unless otherwise stated, are property of My Sardinian Life. Do not use without written permission.