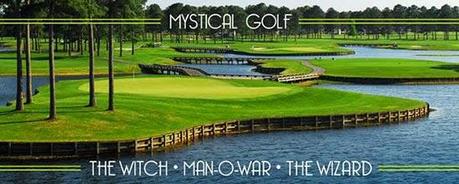 It's a sad time of year for Canadians as winter seems to be lurking closer day by day.  With the sun rising later each morning, the glistening dew on the grass is being replaced by a silver frost, and golfers line up at the course, reluctant to accept the reality that the 2014 golf season might be over.  As gloomy as this may seem, this post is not meant to be discouraging or disheartening, quite the opposite, as I bring news of hope and encouragement.
As the northern golf season is coming to a close across the country, several southern US regions continue to thrive and flourish.  The visions of green fairways, the smell of fresh cut grass and the pursuit of shooting par, don't have to be relegated to office daydreams.  The Myrtle Beach has become a personal favorite of mine as an October/November golf getaway destination.  More specifically, the three courses at Mystical Golf (Man-O-War, The Witch & The Wizard) have earned a permanent place in my heart.  These three uniquely designed courses with creative layouts will challenge the most experienced of golfers, but can also be enjoyed by higher handicappers.
As additional incentive, Mystical Golf is currently offering fantastic fall Stay-N-Play packages, such as this 3 days/3 nights/3 rounds of golf package starting at $258 per person:
Enjoy a 3 day, 3 night, 3 round golf package for as little as $258 per person at our Mystical Resort Golf Villas. This includes FREE daily breakfast at IHOP, a FREE steak dinner at Logan's Roadhouse, Free daily lunch at the courses, 2 FREE beers or beverages with each round (excluding the complimentary round), and more during your stay. Enjoy a 3 day 3 night , 3 round + 1 complimentary round (your selection at the time of booking) too!
Play each of The Witch, The Wizard and The Man O'War Golf Courses with green and cart fees included.
Stay at our 3 bedroom Mystical Resort Golf Villas each with beds for 4 golfers
Lunch each day at the golf courses ($30 value)
2 beers or beverages with each round ($24 value) 
Range balls with each round ($12 value)
$15 gift card for a Golf Shirt from any of our pro shops ($15 value)
Breakfast each day ($30 value at IHOP good 24 hours a day)
Cart fee ($24) replay rate on the day of play at the Mystical Golf Courses - only when space is available ($36 value)
One steak dinner at Logan's Roadhouse includes non-alcoholic beverages and taxes. ($30 value)
For more information on this and other Stay-N-Play packages or to make a reservation visit: www.mysticalgolf.com or call 843-282-2977
Here's a brief into to the three Mystical Golf courses:

The Witch
: Awarded 4-1/2 stars by Golf Digest, The Witch has got a lot of character, which makes for a breathtaking golf course that will challenge your skill set. The narrow layout sits regally on 500 acres of tranquil cypress groves and wetlands teeming with flora and fauna. We were told ahead of time that well-placed tee shots to manicured fairways and razor-sharp iron approaches would be rewarded. I guess my irons weren't sharp enough, cause I feel victim to the Witch on more than one occasion. 
With over 4,000 feet of bridges snaking through a magnificent swamp and wetlands, it made for a 'Mystical' journey around the course where we were also told to be on the lookout for wildlife. Although we didn't spot any cranes, bald eagles or black bears we did happen upon a half dozen alligators who kept a watchful eye one us. I would say the Witch is a must play while in Myrtle Beach.

The Wizard
: You'll be astonished from the moment you arrive at The Wizard. The Majestic castle style clubhouse has to be the coolest golf course clubhouse that I've ever seen. The unique medieval architecture of the clubhouse alone is worth the visit. But now that you're here, you might as well play a round...
The Wizard is a golf treat. Much more forgiving than the Witch, there are still plenty of challenges including the ever present deep bunkers, mound-framed fairways, and dry gullies throughout. Golfers' journeys crescendo with a one-two punch. No. 17 – a classic par-3 ­– requires a well-struck iron onto a Royal Dornoch-style green perilously flanked by water on all sides. The robust par-4 18th is a land unto itself with an island tee, island fairway and peninsula green testing your nerve and skill. Par these two stalwarts and you'll moonwalk to the 19th hole in the old-world, castle-style clubhouse.

Man-O-War
: This was possibly my favorite of the three courses. I found Man-O-War to be a happy medium between the two other courses. But don't get me wrong, Man-O-War is no pushover; featuring water on every hole it is the only course in Myrtle Beach that also boasts a 100-acre lake. 
You'll also find rare back-to-back island greens as well as the stout par-4 ninth completely surrounded by unforgiving H2O. Its commanding 141 slope rating is offset by massive, bent-grass greens – making putting a joy – and tantalizing par 5s begging golfers to go for glory. With no holes playing or even looking the same, the grand illusions and magic of Man-O-War make it a Myrtle Beach must play.