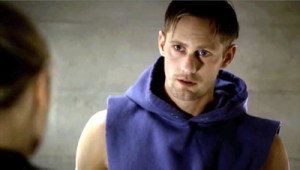 A lot happened at Comic-Con this weekend, Truebies, and we've been bringing you all the latest information as quickly as we can with the help of TBFS' co-owner Shanea O'Connor (check our her coverage of Comic-Con here). There have been season 4 spoilers galore, but Inside True Blood blog was at the True Blood panel Friday evening when Entertainment Weekly's senior writer Tim Stack came looking for answers to some of True Blood's season 4 mysteries.
Mystery #1 – Eric miraculously finds clothes at Sookie's that fit him.
We all know that the clothes Eric is sporting while hiding out at Sookie's house do not belong to her brother Jason. So whose are they? Alexander Skarsgard offers that they could belong to Hoyt, but creator Alan Ball gives the following explanation:
"I believe that if you took the Latin of the spell that was cast on Eric and were to translate i, there would be a part that said, 'And by the way, you will lose your shirt, and then you will find a really dorky outfit that you will wear for several episodes in a row … and still be insanely hot in.'"
Mystery#2 – Pam's facial peel.
After Marnie cast her spell on Pam last Sunday, decay and rot spread across Pam's face like wildfire. So, how'd they do it? Kristin Bauer van Straten gives us the inside scoop:
"We worked really hard to make you squeamish. But doing it is a very technical many-hour experience. It starts with being encased in plaster and making a cast of my head. Then a nine-hour makeup test. There was a little hole with tapioca pudding and coffee grounds that I had to find. The direction I had was: 'Kristin, find the hole and push up.' And I thought, 'Only on "True Blood" is that going to be the only direction I get in a scene.' I'm happy to hear that it was very gross."
Mystery #3 – Will they or won't they? Are Sookie and Eric going to shower or not?
Yes, we've heard a LOT  from fans about the infamous Eric and Sookie shower scene from book #4 of Charlaine Harris' Sookie books. But, will Ball work it into the show??
"There will be a moment in the show when Sookie and Eric are together in a shower," he said. "It may not exactly be what happens in the books. It may be weirder … and dirtier. Maybe."
Weirder and dirtier? Sounds about right.
Source: Inside True Blood – Mysteries of True Blood Revealed at Comic-Con
Photo Credit: HBO