Mysore Paak Recipe - Soft and porous almond fudge
Mysore paak is a specialty from Southern Indian city Mysore.It is made with 3 ingredients-generous amount of ghee, sugar and flour.The traditional mysore paak is made with gram flour,but there are few versions of making this is , it is also made with flour/maida and nuts etc.
I was not a fan of besan paak but after coming to Dubai I learned this badam paak from a very good friend of mine . Till then I am making this on all the festivals as Me and every one in my family loves this badam paak.
Though in Southern India this dessert is popular as Mysore Paak but in my home town this is popular as Mesu and gram flour and refined flour both versions of paak are made and sold here in Mathura.
How To Make Badam Mysore Paak
The making of mysore paak is easy but little tricky,you need to have some practice and patience for making this,else the method is very simple. first of all you have to measure all the ingredients and add in a heavy bottom broad and deep pan. Then cook it on medium heat and keep stirring in one direction only for about 20-25 minutes.
When the ghee start oozing out from the sides and the mixture become quite light and frothy then it is done. You have to very precise about the timing else the mysore paak will not set properly and become flat.
If you have done it properly then you will get these beautiful little holes / jali texture in the ready paak. These little holes /jaali means you have done the Mysore paak perfectly and this will come after some practice and few trails.
As I already mention that the recipe is quite simple , You just have to collect all the ingredients in the pan and keep stirring in one direction till it is done.
The tricky part is to check the point to set (when to remove the mysore pak from the pan and spread in the plate) as under cooked mixture will result in a flat badam paak and If overcooked the paak become hard.But after 1-2 trail and errors you become an expert in making badam paak.
But in any case you are not going to ruin your sweet . you may not get these little hole type texture but still the almond paak will set surely and it will taste good.
You may also like these delicious recipes-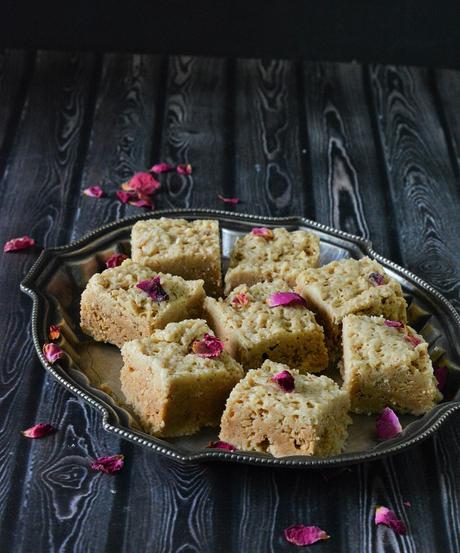 ★ Have you tried this recipe? Click on the stars ★ in the recipe card to let us know your feedback! If you tried it then You can also click the recipe pic and share on Instagram with hashtag #maayeka
Badam Mysore Paak Recipe, Almond fudge