As someone who is always trying to find weight loss aids,  tricks, tools, programs etc....I was very excited to find this very helpful, easy,  fool proof site.  I came across someones post on Facebook mentioning how they were using myfitnesspal.com.  So naturally,  I checked it out. 
http://www.myfitnesspal.com/
is a 100% free website...which,  can be great....unless you get bogged down with 137 emails a day claiming you have messages, offers, tips, etc etc etc.  When thats the case,  I get so annoyed I don't bother with the site anymore.  But I have not found any of that with this site.
next on my list...is it going to tell me what to eat? I am so picky and don't like anything, so once I get to that step, I usually bail.  The answer? NO! Infact...this site just tells you what your daily calorie intake should be, fat intake, etc.  That's all. Your goal?  To stay inside that guideline. 
I know, I know...."How??" you are asking.  Well....that make this easier than anything I have ever seen, tried, heard.  There is a "Track Food" tab.  Your job?  Enter what you ate & drank. What it does? It actually has an enormous food encyclopedia with just about anything you can imagine.  Size, Flavor, Brand...you name it.  So...you type it in...the amount, and it calculates for you all the information you need to enter! I even went as far as to try "pizza with a bisquick crust" (we had no food in the house that day) and they had it!   Calories, Fat, Protein,  Carbs...its all there, right infront of you! Tells you how many you have used,  how many you have left.  Its so easy.
It also has other trackers...like excersise,  same idea as food.  Walked briskly for 30 minutes? It will calculate everything else for you!  Weigh ins, message boreds, tips, tools, friends,  forums, tools.  It is an amazing resource for anyone out there who is looking to try to make some life changes.  It is so easy, quick, and best of all screw-up-proof! I would easily recommend this to ANYONE with goals to reach--no matter how big or small!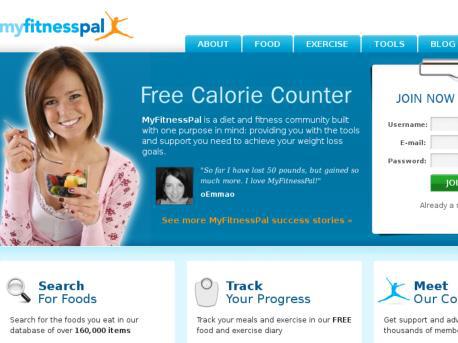 I loved going to the gym,  but do not have time in my day to travel back and forth to one.  I plan to combine this amazing tool with the EA Active Personal Trainer for the Wii and get my butt in shape.  I will keep you posted on progress and any other tips I have & would love to hear from anyone out there trying to do the same.  And if you sign up for myfitnessplan.com....find me! kristin1219.  =)