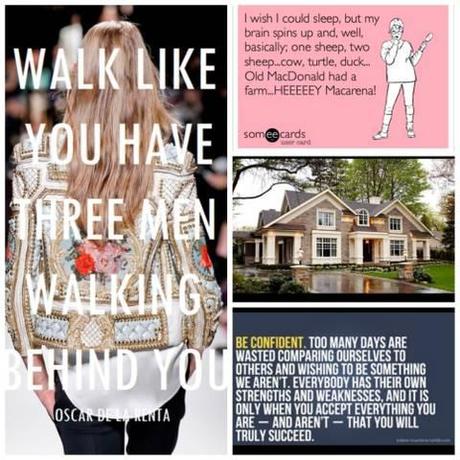 So, this week was just like any other boring week. I went to school, work, and saw friends a few times. I have been working on my store, working on my blog, and just trying to get it out there more! It is just so hard to sometimes!
The first pin goes with trying to gain more confidence. I have a horrible confidence problem, but when I know a guy is walking behind me, I get a little more confident. hahaha I hope I'm not the only one like that!
The next pin is all about how I can't ever sleep. I'll be dead tired alllll day, but as soon as my head hits my pillow, my mind races and I can't fall asleep. It's awful.
The third pin is motivational. I just really want to be sucessful in life, and to be able to own a beautiful house like this one at some point in my life.
The final pin also goes along with the confidence issue. I need to remember to accept myself as who I am so that I can suceed, and not compare myself to others because everyone is different. I always compare myself to others, and its my biggest downfall.
What are some of your favorite Pins from the week?
Follow me on Pinterest!
If any of you are on Pinterest, I'd love to follow you too!