One week in Cancun flew by! You may remember me mentioning that I was going to be in a wedding last month in Cancun. The wedding, and this trip, has been such a long time in the making - the bride was originally supposed to get married last December, but opted to push the wedding date back because of Covid. The wedding week was so much fun, and definitely a trip to remember!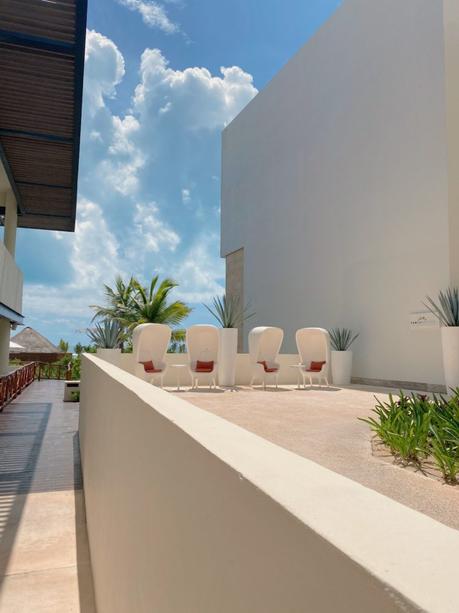 We stayed at the TRS Coral Hotel, which is an all inclusive resort in Cancun. The resort was huge, and it has different sections for adult only travelers, or for families traveling with children. TRS Coral, which is the resort we stayed in, is the adult only section of the resort. The resort itself was beautiful - there were a ton of restaurant choices to choose from (we didn't even get a chance to try all of them), and the beach was a short 5 minute (if that) walk away from our room.
I will say that we weren't impressed with the food at a couple of the restaurants on the property that we ate at. I had a pretty disappointing pizza at the Italian restaurant on the property, and the lunch buffet at another restaurant was underwhelming. Other guests in the party we were with said that the steakhouse restaurants were tasty (we didn't get a chance to try them), and the room service steak fajitas were so good! Especially at 2am and a night of tequila shots lol. We did get a chance to try one of the Mexican restaurants on the resort and it was pretty good as well.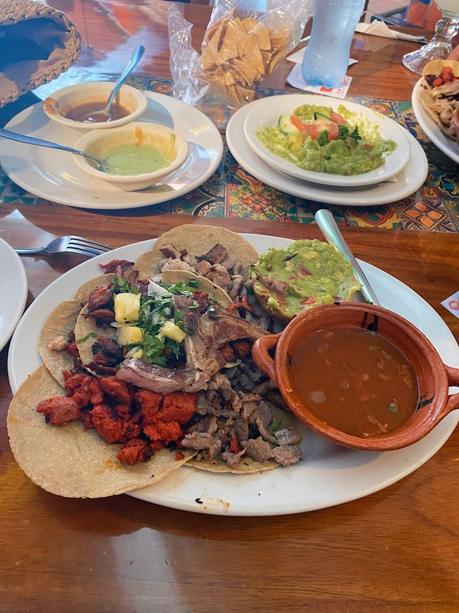 The food off of the resort however is a totally different story! I seriously had the best tacos, and the best dinner of my life at 2 of the places we ate at off of the resort. We had been dying to try some authentic tacos and finally got our wish one day when we ventured off the resort and made our way to La Parrilla Mexican Grill for a late lunch/early dinner. It's hard to see in the picture above, but the first taco on top was pork - and it had pineapples mixed in with the meat and toppings - it was so good. The rest of the tacos were also equally as amazing, along with the fresh guacamole and passionfruit margarita.
On our last night we went to a fancy dinner at Rosa Negra Cancún, and it may have cost me my second born child but it was absolutely worth it. The food was , and the service was top of the line. Our waiter actually brought out a little stand for my purse to go on once he saw it sitting on the table. I've dined in a lot of nice places before, but have never experienced anything like that before my dinner at Rosa Negra. For appetizers we started with the octopus and scallops, and for entrees we both had the millionaire, which is a kobe beef steak and your choice of seafoood, either shrimp or lobster. I had the lobster and he had the shrimp - they were both so good.
We also got an order of the bleu cheese mashed potatoes to share with our entrees - and y'all. I don't even really like blue cheese, but these mashed potatoes were mouthwatering. I reallyyyyy wished we would have tried dessert, but after all of the food we were just too full lol. Every night they also do a light show and a fireworks show around 9:45pm. They pass out sparklers to all of the guests in the restaurant, and sing and dance outside and do a fireworks show. We weren't seated when the show started, but we got to watch it from the deck outside and it was so pretty and so much fun. Seriously the best food and dining experience I've ever had...if you're ever in Cancun I highly recommend adding this to the list of places to visit on your trip.
Last, but not least - the looks lol. I'm mad that my suitcase was overweight AND I didn't get a chance to wear half of the shit I packed. I also was too busy living in the moment to remember to take photos of everything I wore. I put what pics I did have here though and linked everything I could. If you have any specific questions about something else, just let me know.
Pictured above:
Pictured below: