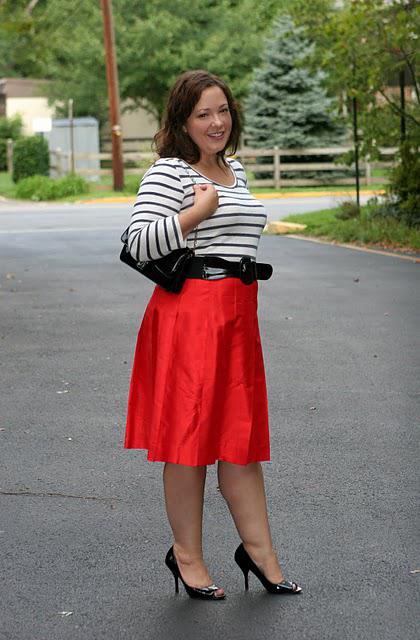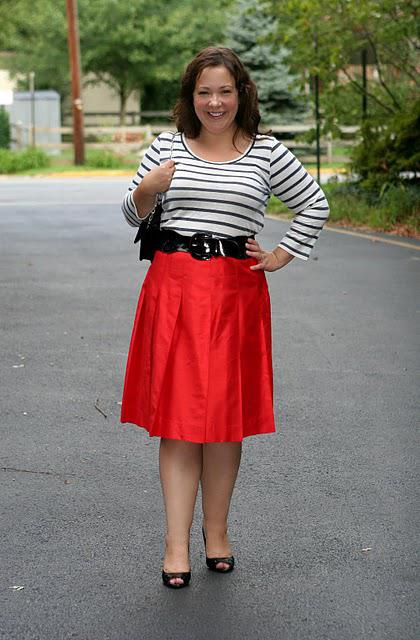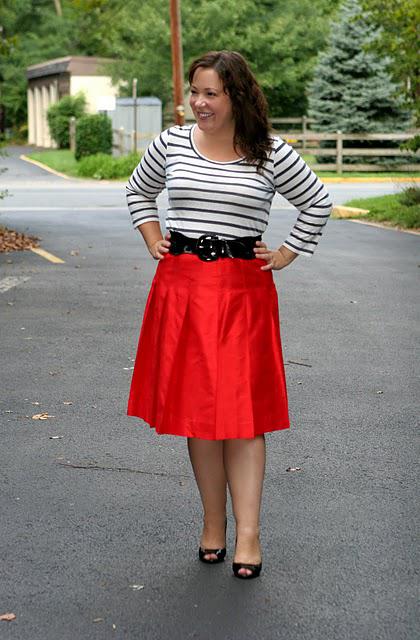 Striped tee
- J. Crew
(no longer available)
Belt
- Lauren Ralph Lauren
Skirt
- Banana Republic
(no longer available)
Shoes
- Nine West
(no longer available)
Purse
- Ann Taylor LOFT
I don't find photo sessions fun. Maybe some bloggers do, but I feel it's a means to an end. I feel awkward and goofy standing in my court while my husband takes my photo like I am some sort of celebrity, but then the result is I can use the results on my blog and share my wardrobe with you. I feel as a blog-reader
(okay, blogaholic)
that blogs are so much better with pictures and not just a stream of
Polyvore
collages and images from other sites. It's easier to explain my purpose if I can actually show myself on here. I think these pictures
(which were the best of the dozen my husband took)
show my awkwardness, my feeling of, "Can we just end this so I can get on the Metro and
finish reading my book
?"
(though the last one was because Emerson was singing some song with Mommy in it and I was looking in her direction)
I was so happy, yesterday I never got a chance to eat lunch, I was so slammed so at 3:15 I went down to the building lobby to get a
Cup-O-Noodles
from the gift shop. I came up the elevator and bumped into my supervisor who asked if that was the first thing I had eaten that day. When he found out I hadn't eaten and had been at work since 6:45 he sent me home. Wednesdays my mom watches Emerson so I headed home, my husband and I dashed to the market to get sushi and a bottle of wine and we had a minidate out on our deck, relaxing and spending some quiet time together. Emerson came home from my mom's already sleepy so we did a quick dinner, bath, and she was in bed by 8pm. And I was in bed by 9! I needed that rest
(speaking of rest, so psyched about this LivingSocial deal for a mattress place in Maryland - on my way to a new bed!).
Follow Me | Twitter | Facebook