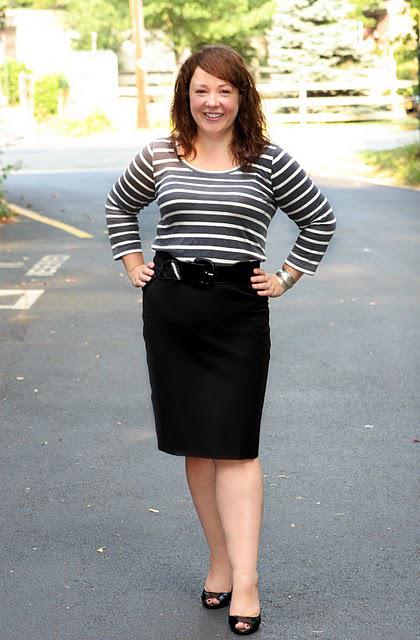 Tee
- J. Crew
(no longer available - similar)
Pencil Skirt
- Old Navy
(no longer available, similar)
Belt
- Lauren Ralph Lauren
Shoes
- Nine West
(no longer available - similar)
Silver cuff
It's hot and humid today. So hot and humid this is the first picture my husband took: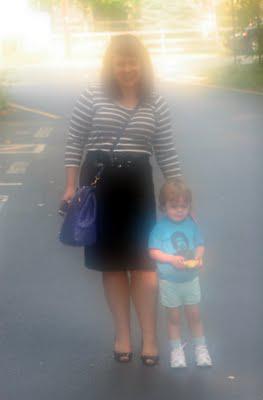 He had to wipe the condensation off the lens with his tee shirt to be able to proceed. The air feels like soup, and even though my hair was dry when I left the house, by time I got to the car it was damp and frizzy and now I am totally rocking the Kip Winger 'do.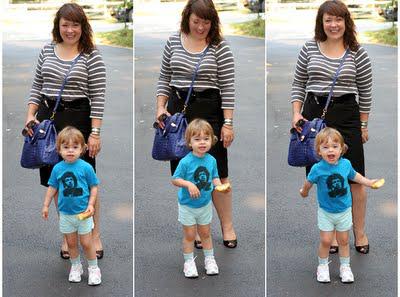 So I had to have a picture with Emerson this morning because she picked out her outfit today. Yesterday she wore a turquoise skirt and watched Jimi Hendrix at Berkeley (it's nice that the kid likes music so we can get a break from the Sprout channel) so today she wanted to wear blue and she wanted to wear JIMI! It's amazing how much she learns and changes at this age, and gotta say the kid has great taste in music!
And this skirt... found in the attic, seemed exactly the same as my more expensive Calvin Klein skirt.  However... it's not.  May have flattered my pre-baby body but it's a perfect tube on me now, gaping at the waist, and sliding down in a weird way.  As the day has progressed, the skirt has stretched out in weird ways.  Not the best look, especially with the Kip Winger hair...

J.Crew Tees

Follow Me | Twitter | Facebook