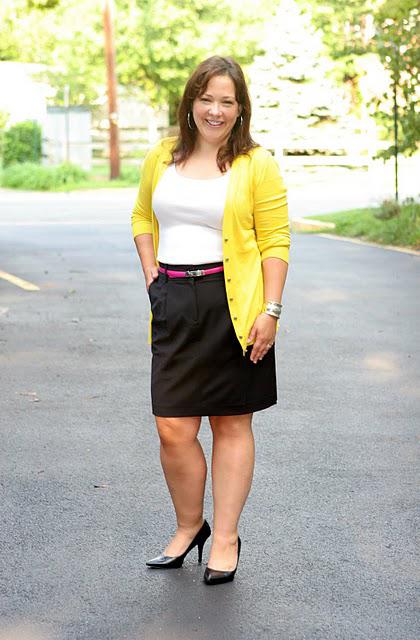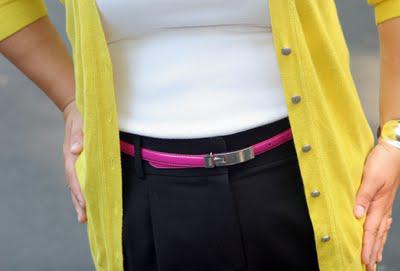 Cardigan
- Ann Taylor
(no longer online but may be on your store's sale rack)
Tank
- Caslon
(no longer online - similar)
Skirt
- Ann Taylor
(no longer online but may be on your store's sale rack)
Pumps
- Nine West
(no longer available - similar)
Belt
- Hobo International
(no longer available - similar)
Silver hoops and cuff bracelet
Another recent
Ann Taylor
score, this skirt ended up only costing $30. I know I already have a black pencil skirt, but this one is shorter, pleated, and has pockets! It's so nice to be able to slip my SmarTrip card into my pocket for quick exit and entry on the Metro, and I love it when I am my husband's assistant on bigger photo shoots - I fill them up with batteries and memory cards and business cards.
Tomorrow we were planning on attending the
Silopanna Music Festival in Annapolis
(Matt & Kim, Sharon Jones & the Dap Kings, Trombone Shorty, Fitz & the Tantrums)
but it was cancelled due to Hurricane Irene. If it's not too awful tomorrow, my mom is going to take Emerson for the day so we can do some stuff at home - move furniture, try to finish putting away all the stuff we have been inheriting from family
(have I mentioned that I have about 50 yellow Kodak boxes of slide wheels under my bed? Or three crates full of photos of pictures I need to weed through? Or a closet full of Civil War letters and notes for my father-in-law's book? It has been almost three years and we have hardly made a dent and now we're slowly getting stuff from my husband's grandparents).
I would LOVE to have my office be an office and not a storage shed, but I have a feeling tomorrow is going to be pretty crazy weather-wise and I would prefer to be together as a family than worry about organization. So we shall see...

Ann Taylor Skirts

Follow Me | Twitter | Facebook