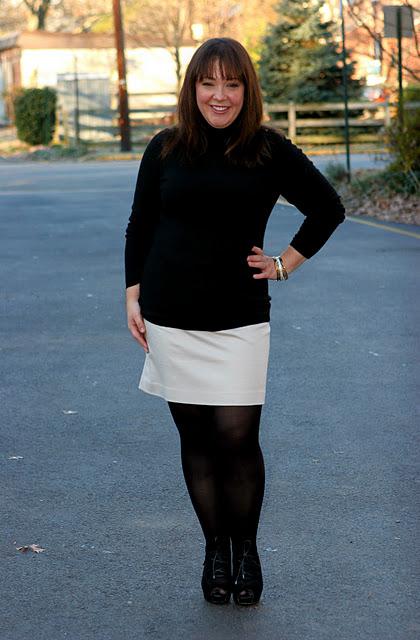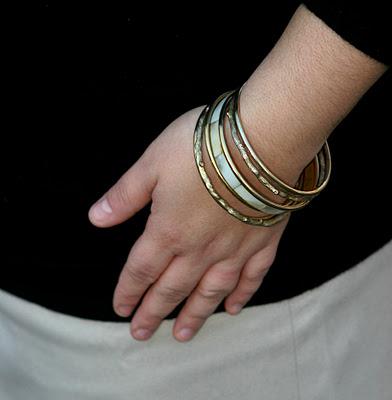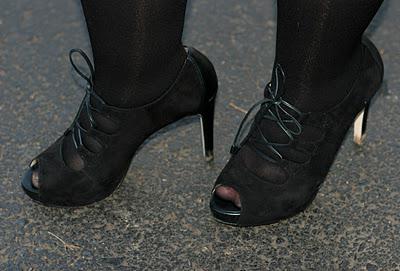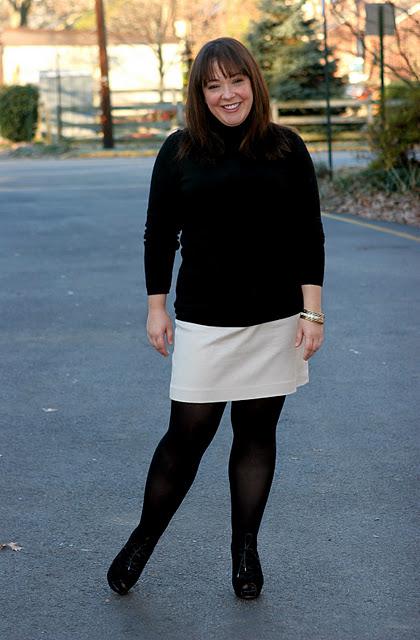 Sweater
- Ann Taylor
(similar)
Skirt
- c/o Ann Taylor
(no longer online)
Tights
- DKNY
Booties
- Talbots
Bracelets
- Ann Taylor, Lauren Ralph Lauren, clothing swap
So I have found the most brilliant invention - plus petite tights from DKNY. I am 5'3" but in the land of hosiery that means I should weigh less than 160 pounds. So either my tights are cutting off circulation at my waist, or they are bagging at my ankles and knees by noon. Enter DKNY '412' tights, which come in Petite Plus! Halleluiah! These tights are the right length, don't dig into my belly, and aren't stretching their limits over my thighs and calves! While the quality isn't quite as good as Nordstrom tights
(not as even of a weave and I don't know if they would pass the barefoot on sidewalk test)
, they are comfortable and a classic denier and not shiny. They aren't cheap, but they often go on sale
(I got my pair for $10 at Nordstrom a week ago)
. If you have this same issue as I, check these tights out!
This is a pretty simple outfit because I had to go to a client site today.  Casual Friday, so wasn't going to wear a full-out suit, but didn't want to be too casual.  I stopped by Ann Taylor last night and with my $20 rewards card, the discount on clearance and a bit of a gift card remaining, I didn't have to pay for this skirt! It's a soft flannel feel and more of an oyster color than cream or beige.  It has an exposed zipper like my orange skirt, but for this skirt it's down the back.  This sweater I have had for eons, I may have even owned it in college.  Classic-cut merino and cashmere sweaters never go out of style!
So what are your weekend plans?  There is a craft fair in town that we will be visiting tomorrow.  I also hope to get and put up our tree - Emerson is obsessed with Christmas and I'd like her to have the experience.  On Sunday my sister and I are going to get massages
(first one I think since my honeymoon!),
and then going to my mom's house to make Christmas cookies with Emerson.  As a kid, we used to make sugar cookies every Christmas - my sister and I loved the bear cookie cutter - we would take sprinkles and jimmies and meticulously decorate, creating necklaces, facial features, clothing with the candy.  One would hardly want to eat them, they were created with such detail!  I know Emerson will only be shaking red and green sprinkles, but I know she's going to have a blast with the process!

Ann Taylor Skirts

Follow Me | Twitter | Facebook