Pep Guardiola, 51, a Spanish football manager and former player, says he knew nothing about football before knowing Cyruff. So reading the autobiography My Turn by Johan Cruyff became quite important for me. If was only after reading this book that I came to know that I would not have known about this great player if I had not read this book. Johan Cruyff left this world on 24 March 2016. He wanted his funeral to be done in a very simple way. And the same happened, as per his wish. Only his close family members were there. But FC Barcelona did not approve of this. That is why his memorial was kept in the stadium with great respect. Johan was very dear to Ajax, Barcelona, ​​and the Dutch National Team. Bobby Charlton believes that Johan Cruyff was a very great football player and added a new thrill to the game whenever the ball hit him on the field.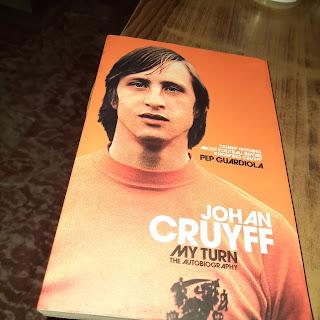 Eric Cantona says that Johan was such a great player that he had the ability to perform the best game at any position on the field. Similarly, Gary Lineker tells about Johan Cruyff, the author of this autobiography My Turn, that Cruyff had the ability to do everything that made this beautiful game even more beautiful, and this specialty was more than any player in the history of football. In My Turn, Cruyff is talking about his life, which consisted of nothing but football. As a child, Johan got signed by Ajax merely at the age of 10 while playing football in the streets of Amsterdam. Here he won 3 European cups. In 1973 he was signed by Barcelona at the world's highest price. Here a new journey of his started in which he took the initiative to set record after record. In 1974, Johan took the Dutch National team to the world cup final.
During his tenure, he won many awards and brought a lot of fame to his team. My Turn by Johan Cruyff is a powerful autobiography.
You can buy this book from Amazon India here. 
You can buy this book from Amazon US here.
I'm participating in the #TBRChallenge by Blogchatter