For Julie -
Here are my six current favorite dance videos on YouTube. (Some videos cannot be embedded into the post so I'll give you the title and link)
6: Paloma Herrera & Jose Manuel Carreño - Don Quixote PDD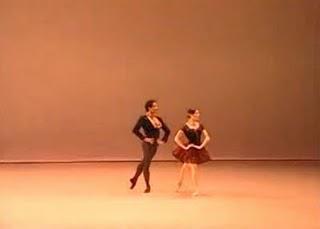 These are two of my favorite dancers of all time and their chemistry is just incredible. This pas de deux is executed so effortlessly. I saw them dance this together live several months ago and it brought me to tears. I'm so sad to see Jose retired but I'm so blessed to have gotten to see him dance once before he was finished.
5:
One of my goals in life is to dance this half as beautifully Adiarys Almeida and Joseph Gatti. They make it seem so incredibly easy.
4:
I love this girl. She's like a little firecracker and is also the elegant dancer in the video above. So versatile. I wish the whole ballet was on YouTube!
3:
A classic. This is one of the most famous ballet videos and also one of the most well-done. It's utter beauty.
2:
When I first saw this number on Fox's So You Think You Can Dance it nearly made me cry. The story is so clear and vivid. I know it may not be classical ballet but I think artistry is artistry and anyone can enjoy a performance as clean and passionate as this.
1:
I found this video fairly recently and it skyrocketed to my favorite. This ballet (although very sophisticated and not for young eyes, with the exception of this pas de deux) is absolutely amazing. It takes place in ancient Rome and with the technique, talent and scenery that the Bolshoi provides it's simply breathtaking.
Hope you all enjoyed! What are your favorite YouTube dance videos? Leave a comment and let us know.