Faces Canada!
When I was growing up with my friends, we believed that makeup makes you look dull and damage your skin as it contains lots of chemicals.
I only used kajal on daily basis and lipsticks on occasion. I had tried a few makeup products for special events, but they would make me look awful, so I stopped using them. This continued throughout my college and working days until I got married and was introduced to social media beauty experts.
I realized that I believed in myth and used only low-quality makeup products which made me look unpleasant.
Therefore, soon I invested in good cosmetics products and from here my voyage with makeup began.
There are many best cosmetics brands available in India and I have used a few of them. Faces Canada is one of the best makeup brands you should have in your vanity bag.
View this post on Instagram

A post shared by Jenifer $ayyed (@shaandaar_jenie)
If you are new to the makeup world or don't know which products and brands to try, then without any thinking, go for the Faces Canada cosmetics brand. It's been a year since am using Faces Canada products and recommend everyone to try them.
 They offer an exclusive range of high-quality makeup products at affordable rates. Their products are cruelty-free and hypoallergenic.
Below am sharing my Top 5 makeup products from Faces Canada that can create any trendy looks or style.
1) Face Primer: Faces Canada Ultimepro perfecting primer
It is the most important first step to start with your makeup. If you don't begin with the right step, then your makeup look will not be perfect.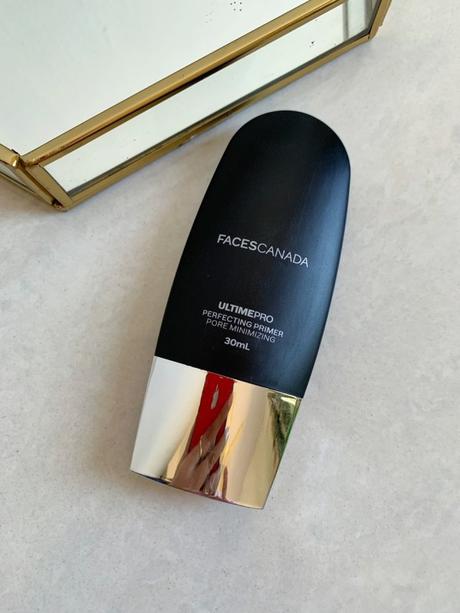 I use Faces Canada primer which is lightweight and gives a velvety finish to my skin making it prepared for smooth makeup application. Its efficient formulation with mattifying effect minimizes pores, and fine lines, thus creating a more youthful look.  It also decreases sweat & dirt which enhances makeup's life.
This primer helps in setting my makeup properly and for a longer duration.
Price: Rs. 899 for 30ml
---
2) Foundation: Faces Canada Prime Perfect Foundation
This foundation is available in various shades and will suit all skin types to give a flawless look.
My shade is 'natural' and it completely suits my skin tone. These foundation shades are developed specifically for Indian skin tones and therefore, it gives a natural look. This blends smoothly into the skin giving it an excellent matte finish.
The foundation is infused with the goodness of Vitamin E, and hyaluronic acid that provides moisturization and acts as anti-aging properties. It is Paraben free, cruelty-free, and dermatologically tested.
It stays quite long as I have used it during my travel to Ladakh and Mahabaleshwar. The glow was intact for more than 8 hours.
Price: Rs749 for 30ml
---
3) Concealer: Faces Canada High Cover Concealer
I have oily acne-prone skin, so I needed a concealer that can take care of it and conceal acne marks and spots.
Recently I purchased Faces Canada High Cover Concealer as it is enriched with Vitamin E & Shea butter for hydrated and brighter skin.
This creamy liquid concealer comes in 6 versatile shades that will suit all skin types and give a natural finish. It blends seamlessly into the skin and gives good coverage.
Price: Rs 299 for 4ml
---
4) Face Palette: Faces Canada Ultime Pro Face Palette
This 3-in-1 face palette includes a bronzer, highlighter, and blush to compliment our facial features by enhancing and defining our look.
This lightweight powder goes well with an Indian skin tone and stays for a long. It blends easily on the skin and gives radiance.
Instead of carrying three different products, buying this 3-in-1 contouring kit is ideal & cost-effective esp during travel. It is available in 4 shades and you can buy it according to your skin tone.
Price: Rs 899
---
5) Eyeshadow Palette- Faces Canada Ultime Pro Eyeshadow Palette
Eye makeup is always on trend and alluring because it highlights your face and makes you look attractive.
For my wedding, my makeup artist spend 1 hour only on my eyes and the result was phenomenal. My guests and family (including myself) were stunned to see how beautiful I looked. I understood how important eye makeup can be and how it can make you look dazzling.
I am interested in learning eye makeup and hence purchased the Faces Canada Eyeshadow palette recently. I bought the 'nude' shade as it's popular and can help in creating all sorts of looks effortlessly. It is richly pigmented and blends smoothly on the skin.
Price: Rs 999
---
---
Have you used Faces Canada cosmetics? If yes, then let me know your favourite makeup products.
Favourite Beauty Picks of the month