Many new bloggers still find it hard to apply for the Google adsense program and even those that apply still get rejected due to some or many reasons. We all want to get paid for the hard work we put into our blog, right? Like my friend would always say; money is the best motivation of every blogger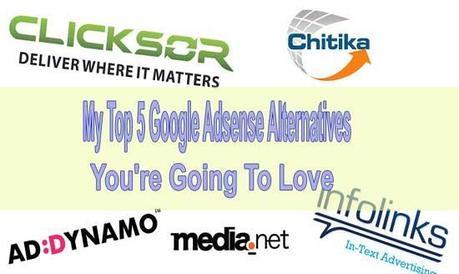 Today, I am bringing some good news to you guys. If you have been trying to get your adsense approved and still getting rejected, do read this post and learn from it: Google Adsense Won't Approve Your Blog? Try This Steps!
If you are tired of using Google adsense or Google have suspended your account or you'd like to mix your adsense with other ad network to increase your blog revenue, then this post is definitely for you.
My Top 5 Google Adsense Alternatives
I have used all the advertising platforms I am about to mention here today and I must say that they are doing well as an alternate to Google adsense. So without wasting much of our time, let's start with the countdown

.
Infolinks:
Ok, I put infolinks as my number one because they are the most awesome ad network compared to the rest (my opinion).
Must Read: How I Reduced My Bounce Rate From 70% to 1.26% Within 4Days
Why I said they are awesome? Because their advert rate (both CPC and Impression) for publishers are higher. Even higher then Google, their customer care is live and very much active (they always reply to their mails), they pay in time and they also pay through payoneer master card (if you want).
Now tell me how fun can the infolinks network get? But as they say, every good thing must have a bitter side.
The one bitter side I have noticed about them is, it slows down your blog performance. Aside that little pinch, they are awesome. I am currently using them on this blog along with Google adsense

.
Media.net:
From the stables of yahoo, media net has become my second favorite because they are as strict as Google Adsense. They don't allow just any blogs to participate except you get your traffic from the North America.
Must Read: How To Check And Fix Broken Links To Increase Your Blog SEO
Believe you me – I applied for about a dozen times before I was finally accepted to their program.
Why I liked them; they pay high, their customer care is partially active (compared to Google's

) and they make payout through paypal.
If most of your traffic is coming from America, then media net is definitely for you.
Clicksor:
This is one great advertising company which I feel you're also going to love. It works exactly like infolinks (intext ad) and does even more when it come to ad sizes and display.
They do pay in time and their CPC is also high. They can work alongside adsense but I wouldn't recommend you to use the same ads (clicksor + adsense) on your blog or your blog will be darn slow or might even look kinda spammy (my own suggestion).
Chitika:
When I started blogging newly, I was temporarily suspended from using the Google adsense program due to some issues. I then switch to Chitika pending till I am released by adsense. But the more I used chitika, the more I fell in love with them

Must Read: Adding A Top Commentator With Gravatar To Your Blogger Blog
What do I like about them? The way they display their ads is totally different from the rest advertising company out there. Their ads are so tempting that your visitors will have no choice but to click it.
But one thing I do not like is the low CPC they offer. Aside that, nothing bad about them and I am using them on my other site

.
Addynamo:
Most of you might not have heard about addynamo before but for those who do, you'll know that they are doing quite well.
But the truth is I tried them once for like a month but I removed them because my earning was quite low and wasn't what I'd expect.
Some bloggers do use them and still smile to the bank. So you can use it and see how it goes for you

.
Let's talk:
Have you used any of the above mentioned advertising networks before? If yes, did you like it? Are you still using it? Please do drop your views using the comment box below.
Must Read: Some Facebook Communities You Should Join In 2014
Do you have comments, questions and or thoughts you'd love to share with us? Then do use the comment box below. Remember that your comments, questions and thoughts are highly welcome and most appreciated.
Be social:
Do you like the post? Then do click the like button, share us and recommend us to friends because you'll never know who among your friends might be in need of a lovely post like this. Do not forget to subscribe to our feed for your latest update on the go.
Don't Miss Any Post Again. Subscribe To Our Feed And Be Updated
Enter your email address below:
Powered by OnenaijaBlog