Happy Tuesday my friends! This week was such a whirlwind for me with family in town, BBQ's to attend, decorating for our house and much much more! Stay tuned for tomorrow's post on a fun little announcement I have, but until then, I wanted to share some must read novels to kick off your summer!
I've been an avid reader since before I can remember. Don't you think all librarians say that? Wait, you didn't know that I was a librarian? Well yes! I actually have my Masters to prove it but just because I'm a librarian does not mean I talk about books 24/7 or say "shhh" ;) While it's not my current occupation at the moment, it is something I love taking about with girlfriends over coffee, or co-workers over lunch. Summer and reading are my perfect combo and today I wanted to share some of my top 4 summer reads for you to enjoy over the next few months!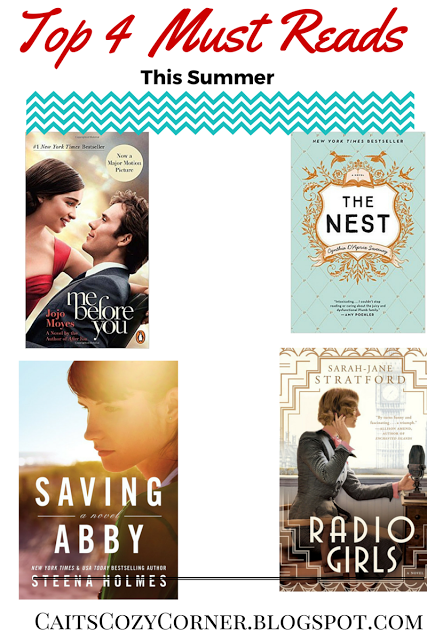 Me Before You- With the hype of the movie coming out you won't want to miss reading it! The story talks about a girl, Louisa Clark, who desperately needs a job working for an ex-Master of the Universe, Will Traynor, who is wheelchair bound after an accident. Will lived a huge life with extreme sports, worldwide travel and making huge deals but now he feels he can't live that way anymore. When Lou learns that Will has shocking plans of his own, she sets out to show him that life is still worth living. This heartbreaking romance is a must for the beach.
The Nest- I haven't personally read this but it's on hold for me at the library because it's that good! Of course, every family has it's issues but among the most is the Plumb family. After years of tension and finally reaching a breaking point, Melody, Beatrice and Jack Plumb gather to confront their reckless older brother Leo who was just released from rehab. Months prior, Leo who was inebriated drove behind the wheel of a car with a nineteen year old. The accident endangered the Plumb's joint trust fund "The Nest" which was months away from the children receiving after their parents past away. A story of friendship and power of family, this novel shows the ways we depend upon one another and how we let one another down. It's the unbreakable ties we share with those we love.
Saving Abby- When a woman has an impossible choice to make- her life or the life of her child. When Claire finds out shes pregnant after unsuccessfully trying to conceive for six years, she and her husband think they have the miracle they had always been hoping for. Claire suddenly falls ill and treatment could put her baby's life at risk. Claire has to make an unthinkable choice.
Radio Girls- This novel shares the early days of the BBC and the women who are behind it's incredible programming. During the year 1926 in London, Maisie Musgrave just landed a dream job as a secretary at the newly created British Broadcasting Corporation. She loves the job with it's proximity to famous writers, scientists and politicians. Suddenly, she discovers a shocking conspiracy and needs to figure out how she can let her voice be heard.
What novels are you excited to read this summer?