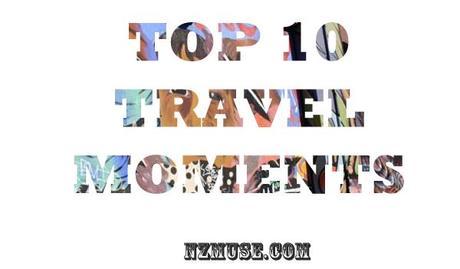 It's been exactly one year since we left on our RTW trip. All I can say about that is HOLY CRAP.
Also, time flies.
Lest I forget, I thought I'd chronicle 10 memorable moments from our RTW trip on this anniversary.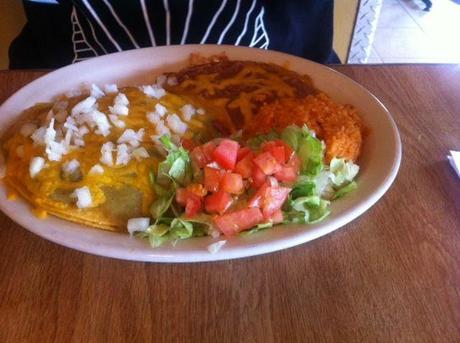 Our first brush with Mexican food
Eating Mexican food was one of the things I was most looking forward to in the States. But with so much amazing cuisine on offer on the East Coast, it just didn't even register, really, until Chicago. Once we'd had hot dogs and pizza and pierogi there (and White Castle, but let's not speak of that abomination) accompanying our friend to a local Mexican restaurant – a highly recommended one – was a nobrainer.
Everything was a revelation. Free UNLIMITED corn chips? Insanity. The tortilla soup was so complex and rich in flavours. The plates were huge, packed with the rice, refried beans, salad and wraps that you just can't find an equivalent of in New Zealand.  
From then on, we ate Mexican at least every other day until we flew out of LA. I desperately, desperately miss it.
Serendipitously spotting the Northern Lights in Iceland
If you look north, you might be able to spot the northern lights, our Couchsurfing host texted us. 
We were just leaving Reykjavik in our rental car, so I took a look on Google Maps and directed us to what looked to be a giant piece of parkland away from the mass of houses and residential roads. (It turned out to be a golf course, I think). Driving out there utterly alone was super eerie, but we achieved the main thing: leaving the light pollution of civilization and getting out into the real dark of night.
After parking up, we sat back and waited. Chowed down on the snacks we'd stopped to grab on the way. Stared intensely into the blackness ahead of us.
Eventually, T pointed out a faint streak of green through the windscreen that seemed to move ever so slightly. It was one of those things that's so ethereal, so delicate, you almost can't see it if you're focusing intently. Rather, by looking a little sideways and relaxing my gaze, the lights seemed clearer to me. They were very faint, very subtle, very undramatic, undulating in and out of visibility – but they were there.
I honestly wasn't expecting to see the northern lights at all, given the time of year, and it didn't cost us a thing extra.
Our first deli subs in New York
After a weird but entertaining first meeting with our Airbnb host in Brooklyn, we headed downstairs and out to Broadway in search of sustenance. Fried chicken was tempting, but we decided to go the deli route. I can't remember what T ordered, but I know I got a cheese steak sub, and one bite in, my eyes were rolling back in my head with pleasure. After wolfing down our sandwiches, we crossed the road to another deli (they were not in short supply around this area…) and bought two more. Sigh.
Having mouthgasms in Rome
Sorry to be crude, but that really is the only way to describe it.
We walked for ages, trying to get away from the touristy restaurants, constantly stopping to peruse menus, then continuing on our way. Eventually we came across a little square, where locals seemed to be congregating around the fountain, and just off this square was a restaurant positively teeming with Italians and not an obvious foreigner in sight.
Eating at that restaurant was one of the best decisions we ever made. An unholy cheese platter with four kinds of cheese, served with honey. Eggplant parm that melted in my mouth. Bechamel lasagne, so rich but yet so perfectly balanced, we would happily have paid double the price for it if we had to. Oh, Italy, come back to me.
Blazing through Vermont on a bike
Our friends in Vermont were super keen to organize a fun itinerary for us. Alas, we couldn't tee up a Harley, but we did manage to get some enormous, fast and powerful BMWs (they were, of course, an eyesore, but that's secondary).
We crossed Lake Champlain onto the Grand Isle just as the sun set and rode way past dark, before heading back to Burlington for kebabs and Ben  & Jerry's. The next day, we rode for hours and hours, through the mountains, to Montpelier, and back, flying past the neverending crimson forests. Serenity is the best way to describe those hours. I was so relaxed, I was almost nodding off on the back (not the best time to doze, I know).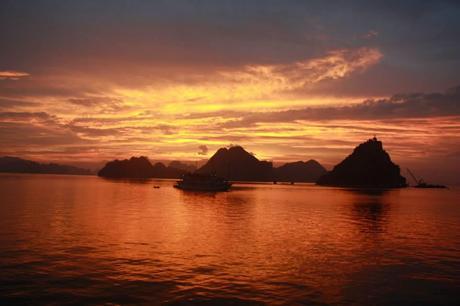 Cruising through Halong Bay
Apparently trying to visit Halong Bay by yourself is more often than not a bad idea, so we went with a tour. It was definitely the right choice. We kayaked around, craning our necks to look up at the amazing rock formations. We saw monkeys, chattering, fighting, playing, cuddling. And perhaps my favorite moment of all – we watched the sun set, a bouquet of reds and pinks and oranges over the horizon.
I can't imagine how crowded it must get in peak season. We went in the low season and there were still boats all over the show; I imagine they must be practically jostled side by side in the peak tourist months.
Swimming through a pitch black cave
It took me a very long time to muster the guts to even jump off the boat. High on my list of things to avoid at all costs are deep water, darkness, and small spaces.  The Emerald Cave in Thailand ticked all those boxes. But somehow I made it through, and the pristine little beach at the end of it all was so worth it. One of the most out-of-this-world experiences in my life.
Finding our American doppelgangers in SoCal
When she heard we were coming to California, S from Tiny Apartment promptly emailed with an invitation to stay with her and a ton of ideas for places to see and eat. And as if that wasn't enough, when we finally met in person, we quickly found out we were basically living eerily parallel lives on opposite sides of the world. She and her fiance were exact mirrors of me and T in almost every way imaginable – the way we think, behave, our quirks, even the stuff we clash over, the roles we play in our respective relationships. It was like there was no need to ever finish a sentence or a thought because the other would instantly know exactly what you meant.
Wanting to freeze time at Ocean Beach
There are moments toward the end of a long trip when you feel so overwhelmed by all you've seen and done, you just want to gather it all up to you and absorb it like a second skin so that those memories will never leave you. When you're so glad to be alive and feel so lucky to be where you are that you can barely swallow over the lump of gratitude in your throat. When you just don't want that night to end, and wish you could pause time because the days are falling away like brittle autumn leaves before your eyes. 
I felt this way often, but it was particularly strong that one night in San Diego. We'd spent the day by the beach, but before heading to bed, we hopped in the car and made our way to the nearest body of water, a corner of the coast bordered by dunes, where a fire glowed softly at its base, ringed by a group of teenagers. It was just too picture-perfect – something straight out of a Sarah Dessen book, maybe – the ideal backdrop for a summer romance, the kind of life I'd never had but always wistfully dreamed of as the phlegmatic adolescent I was. But here we were, a mid-20s married couple … scaling the dune, scuffing along through the sand, admiring the waves through sound rather than sight, contemplating all that had been and what was to come, then making our way back to our Dodge and finally to our soulless motel room.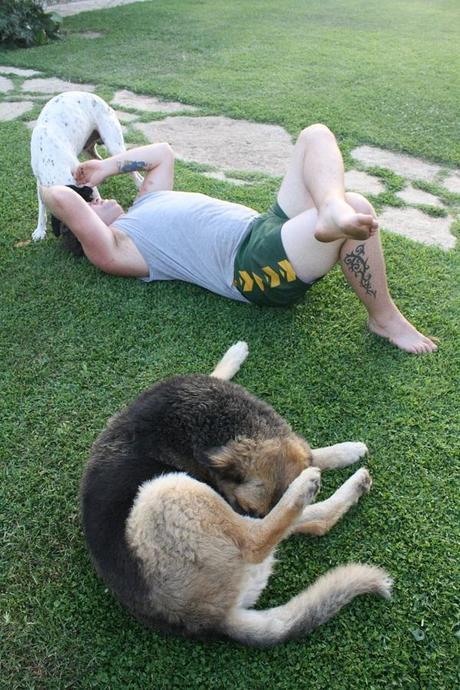 Rolling around with the farm dogs
There's something about watching a grown man tenderly interacting with his child, amirite? Well, I felt a similar squeeze around my heart on one of our last days volunteering in Italy.
It was late afternoon, the sun no longer broiling us but languidly heading for the hills. Two of the five dogs kept racing off after each other, fighting over something (a bone, perhaps). T was lying on the grass, playfighting with the others, laughing and rolling around on the ground. It was a scene of pure contentment, simplicity, connection.

The funny thing is, I saw volunteering initially in purely financial terms – a way to extend our trip by saving money. Instead, those experiences yielded some of the most memorable highlights of our whole trip.
From the Black Forest, I'll never forget our evening plays, our campfire night, dancing to Psy, laughing my head off at students' jokes, hearing an unfamiliar song and being teased – "Hasn't this song come out in New Zealand yet?", being invited to stay with our German students, our sweet little Swiss protege who I cried to farewell, even the annoying old Americans who wore our nerves down at the time.
From Italy, I'll never forget eating fresh bread every morning, the sweet joy of tomatoes off the vine, the Beatles concert, chasing little kids around trying to supervise their leaf-raking, a night drinking at the local boat club, the countless dinner parties with musicians and artists, the oh-so-awkward topless swim (so much for it being a nude beach; my host and I were the only ones doing it). 
What are some of your favorite travel memories?