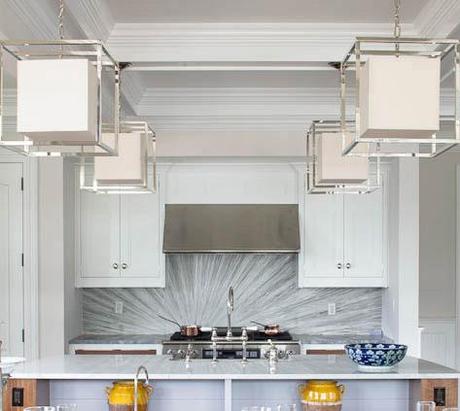 Hampton Showcase House 2012, photo courtesy of Traditional Home
I am working on a client's entryway and fell in love all over again!… I have always LOVED Circa Lighting and have used them for years, but right now their selections are amazing!  They have Modern minimal, rustic, traditional, retro, urban, styles and more, all made with fantastic quality and incredibly reasonable cost!  Plus they offer free shipping and a great trade discount. Check them out here. Here are some things to keep in mind when you are looking for a new entry way fixture:
1. What clearance do you need underneath the fixture?  Make sure that the fixture gives you at least 6′-6″ underneath and if it hangs over a door, make sure the door height/swing is covered. Simply subtract the height of the fixture with your ceiling height to make sure you have enough room.  Most fixtures come adjustable, so it's good to know what the maximum and minimum fixture height is.
2. Where you are hanging your fixture?   If the fixture is going over a foyer table you wont want the scale of the fixture to exceed the diameter of the table below.  If there is a transom window that displays the fixture you may want to ensure that the scale is appropriate and the view from the street is nice.
3.  How much light you need for the space?  I tend to err on the side of over lighting so that the dimmer can help adjust light levels as needed but if you already have other lighting in the space it may make sense to pick out something that gives out a lower, more of an ambient light.
4.  Pairing a fantastic mirror with your new fixture can brighten up the space even more.  It will add a nice reflective bounce and sparkle to the space and  increase the light in more narrow or closed in areas.  It also is a great place to put on that hat or check your lipstick before you go out!
Check out Circa Lighting here and let me know which one is your fave!