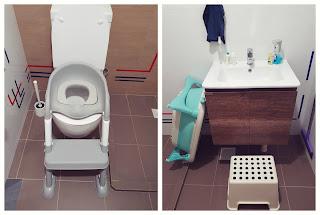 I think I am starting a little too early. But this was a very exciting project for the family. We decided to convert the common toilet to a child-friendly loo for our little one. I was very inspired after checking out my friend's toilet and decided to do the same for ours. It is still a work in progress, but I am proud enough to share it and obtain some ideas as we vamp it up. 
Before we added the furnishings, this toilet used to be empty and we used it mainly as a toilet to wash the bulkier items. It has no shower screen (otherwise the bathtub and an adult would be really squeezed) which was really good advise by our ID. And we had a stainless steel basin cabinet to prevent any rusting. There was also no mirror as well because I couldn't find anything nice/ suitable at that point.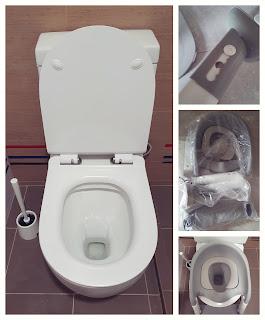 1. MomnLittle Potty training step letter ($61.63)
One of the most obvious thing we added was a potty training step ladder. As some of you know, I am really into aesthetics. I managed to find something that was quite aligned with our neutral house theme and within an acceptable price range. It was delivered within a week and the parts were quite easily assembled.
The height could be adjusted accordingly and the padding (to make the toilet bowl smaller) was really soft. My friend's kid had a try and love it! (I am now known Aunty with Steps in the toilet). Currently, my son uses it as a step to climb up and down. It is a good start, I will be slowly sharing more on the tips once I successfully toilet-train him!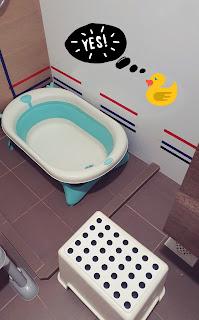 The other item we added was the Bolmen step stool from Ikea. Am very happy to update that my kid would stand on it as we wash his hands. It makes things a lot easier because he is getting a lot heavier. He used to be dangled over the basin, so this was definitely a safer option. 
In addition, I would sit on the stool as I bathe him so it is nice that everything is now placed in one area. The toddler is also getting a lot more playful so a stool is required now (in the past I could still squart) as he will spend a long time playing with water and his bath toys.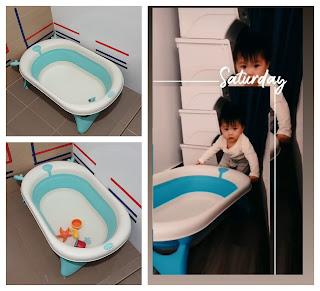 3. Shears Foldable Bathtub has a home ($39.90)
It used to be just placed in the bedroom to dry and oh gosh, bedtime routine was quite a killer when this little dude attempts to climb in and out repeatedly. I would have to even wipe it dry sometimes cos he is so impatient and his clothes would get wet. The bathtub is still used a ball pit sometimes till this day. But it feels more right to have it in the toilet. 
Now we just need a good place to store his toys! For Mummies who need help on the bathing a baby, you can ready my post
here
!