It's just like Christmas around here! The FedEx truck pulled up yesterday and delivered a large brown box addressed to me. My Team 4all package has finally arrived!
Now, I knew they were going to send me a tennis outfit to try out and they did. But there was plenty more!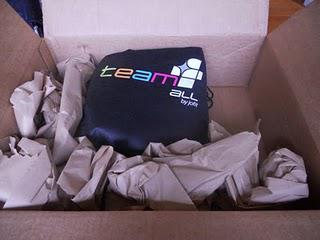 That black thing is a perky little Team 4all backpack by the way! And when I unpacked it . . . well, get a load of this haul: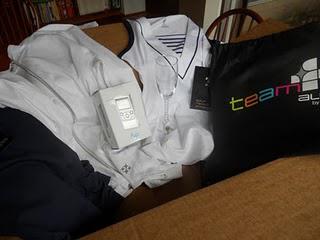 Now, here's what all of that stuff is. There is an adorable outfit from the 4allbyjofit Charleston Collection. It includes a Stripe Inset Tank top, with a sweet little striped inset at the neckline, in white with navy accents: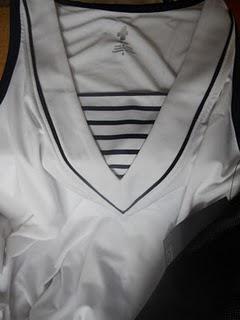 There is also a Side Pocket Knit Skort, in navy with built-in shorts (love) and adorable side pockets on the outside of the skirt. I'm excited to try this idea out during my matches: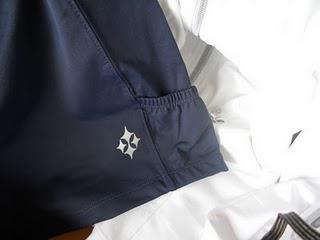 And, my favorite, FAVORITE piece is the Thumbs Up Jacket in white. I didn't even take a pic of this yet because you have to see it on to truly appreciate it. The cut is fantastic - not the least bit track suit looking.  It is, dare I say?, a little bit sophisticated because of the slim fit. I have a feeling I will be wearing this jacket ALL of the TIME!
But wait - there's more! The biggest surprise? A freakin' Flip camera!: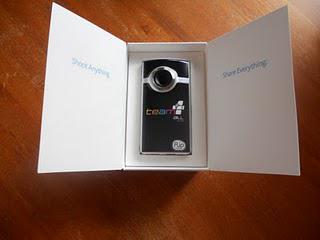 Hello??? No one mentioned that that was part of the deal. I'm excited and yet I'm starting to think I might have to get someone to video ME playing tennis. Yikes.
And how about a champagne flute, etched with "Team 4all" on it and with the cutest little tennis wine charm included: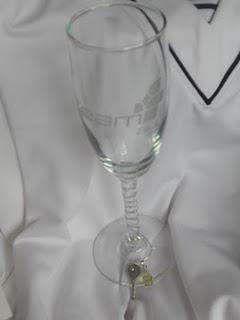 When they send you a champagne flute, you know its going to be fun.
Well, stay tuned because I have a feeling I'm going to be posting some very interesting videos soon. And by interesting I think I mean comical. The good news is - at least I'll look fabulous!
And - don't forget to leave a comment below to enter the

Tennis Fixation

giveaway where we're giving away a copy of Patrick McEnroe's Hardcourt Confidential. To enter, leave a comment on this post. For more entries (and all of the details), just click on this post: Happy 300th Tennis Fixation Post and Giveaway!


© Kim Selzman 2011 All Rights Reserved