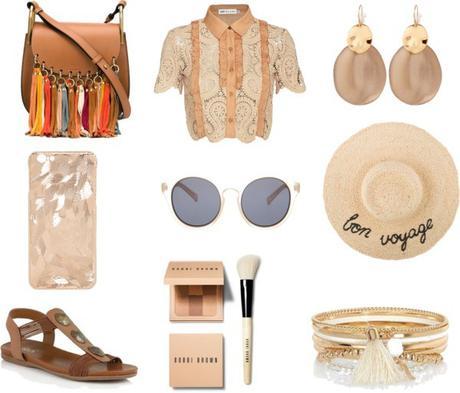 With summer just around the corner, I can't help but get a little bit giddy. Summer is my favorite season and I'm booking lots of trips abroad this year which means I have the perfect excuse to holiday shop! In under two weeks, I will be jetting off to Marbella and I'm not ready in the slightest. If there was a degree for faffing I would have one. The Queen of unorganised, the holiday countdown has started without me and I have yet to step foot in a shop. Don't even get me started on my base tan, my body brushing regime or my bikini body.
The small hudson tassel bag was made for holidays. Great for festivals if you're that way inclined, this bag is the perfect accessory to all of your summer looks.
If you are holiday shopping in a hurry, Self Portrait has some incredible pieces this season. I've already bought my fair share of Self Portrait dresses this year *apologises to bank balance* but I now have my eye on this stunning lace crop blouse.
I don't buy a lot of jewelry but when I do I like to pick pieces that will go with everything I own. Say hello to these super versatile earrings by Alexis Bittar.
I've been on the hunt for an iPhone case for a while and I'm in love with this rose gold case from Luisaviaroma.
Whoopsie, yes that's another Self Portrait item on the wish list. These must-have sunglasses are divine.
You've probably seen these embroidered beach hats on Pinterest and I've managed to track one down just in time for my holiday. This one is from here but there is a super affordable version on ASOS here.
Where do all my summer sandals go? I'm topping up my collection with these affordable yet chic sandals from Brantano that are so easy to throw on.
I can't get through a season without making a few new beauty purchases. Think I'll pick this Bobby Brown illuminating powder up at Duty Free.
No holiday wardrobe is complete without a stack of sparkly bangles. These River Island ones fit the bill.
If you could lend a hand with my holiday shopping, that would be great. If you really want to make all of my wishes come true, could you also frog march me to the nearest spa, monitor all cake intake and treat me to a birthday mani/pedi?
Have I forgotten anything? What's on your holiday wish list?