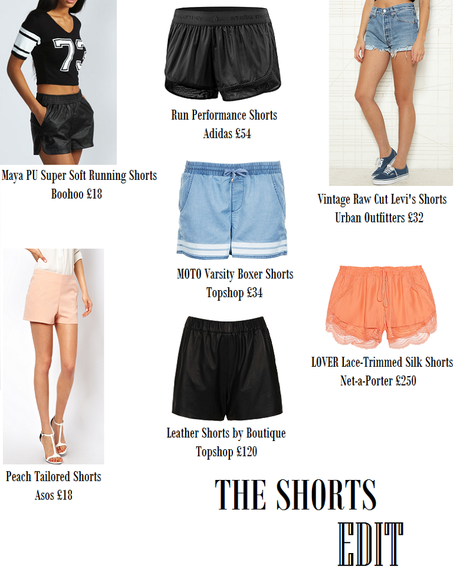 Maya PU Super Soft Running Shorts | Boohoo | £18 (also available in white)
Run Performance Shorts | Adidas | £54
Vintage Raw Cut Levi's Shorts | Urban Outfitters | £32
MOTO Varsity Boxer Shorts | Topshop | £34
Peach Tailored Shorts | Asos | £18
Leather Shorts by Boutique | Topshop | £120
LOVER Lace-Trimmed Silk Shorts | Net-a-Porter | £250
Happy 4th July to my American readers! This weeks style picks encapsulate a selection of my favorite shorts; from sport luxe and Levi's denim to tailored and lace-trimmed. This weekend and next week a little bird has told me that the weather is meant to be picking up, if this is correct, we could be in for a scorcher. This year I haven't spent a lot on summer pieces mainly due to the weather, but what I have been investing in is style pieces that will see me through to this years fall. This season I've been loving the sport luxe and varsity trend, from crisp whites and oversized crew neck sweats to varsity tees and loose fit running shorts. I love particularly love the Topshop Varsity Boxer Shorts which can also be worn in a two piece set with this Varsity Stripe Tee. I'm also lusting over the Maya PU Running Shorts; I love the loose, baggy fit, combined with a tight elastic waist band. I also really like the texture and mesh detailing of the Adidas runners. These will be perfect with a plain white tee or an oversized sweat combined with some cut out leather ankle boots. Although running shorts are relatively limited when it comes to incorporating them into an outfit, this years Sport Luxe trend has given them a diverse appeal. I think if you find the right pieces to compliment them you can either dress them up or down. I also love delicate shorts, including silk and lace. These Lover ones from Net-a-Porter incorporate two of my favorite textures in a gorgeous soft pastel orange. Mind you I don't think I could afford the price tag just yet. Are there any Style Picks you would like to see on the blog?
I've been incredibly busy the last week or two but I finally have my degree. Such a wonderful feeling. I've also been picking up a lot of denim recently, but I am still searching vintage and charity shops for the perfect pair of Levi Shorts. I love the ones featured in today's style picks with the classic 501 five pocket style, a light vintage wash and frayed cuffs. These may have to be the ones. I was also contacted last week by soinfashion.com and have two lovely style pieces to show you, including some lace and leather. Don't forget to enter my Bumble Surf Set Giveaway here! Just under a week left.