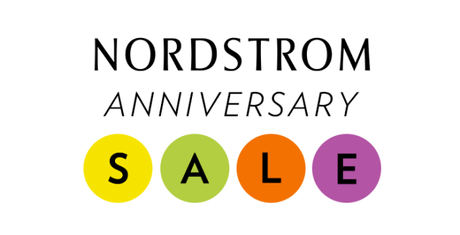 The Nordstrom Anniversary sale is here! This is my favorite time of year to shop because the deals are so good and you can't usually find the same pieces come fall. I always use this sale to get leather goods, higher-end sweaters, blazers and jackets, and to stock up on essentials like tights and underpinnings. As a Nordstrom Cardholder I can shop now; for those who don't have the card you can apply to shop immediately or check out a preview and make a wishlist for July 17th. Some of the things that have caught my eye:


I know some don't love leather like I do, so go ahead and keep scrolling. But this is by far my favorite part of the Anniversary Sale and the one category where I have seen awesome styles and they have sold out before the sale has even ended. If any look good to you, order ASAP before they're gone!
Halogen is my go-to for buttery soft leather in styles that are on trend by wearable for more than a season. is a perfect example. Black leather, a-line, with a front pleat, this is the kind of leather skirt you could wear to the office. Style with a cashmere turtleneck, a silk blouse, or even a chunky cableknit. $164.90 is an insanely great price especially since I know Halogen leather skirts (I own two). Leather stretches, if unsure size down. May take a wear or two at home to stretch to its final perfect size. The same skirt is available in plus up to 24W for $185.90.


Now is the time to get that versatile dress that you can wear to your company's networking cocktail event, a holiday party, or an evening wedding. Choose well, switch up accessories, and likely you can attend every event on your social calendar with one frock!


Now is the time to buy those fall and winter shoes you'll need. Boots are at a steep discount during this sale and while the idea of wearing them now may sound dreadful, you'll be glad to have them in your closet come October!


While you may be sweating while reading this, before you know it there will be a chill in the air. Prepare by buying now on sale and on trend for the fall and winter.


Trousers, skirts, blouses, and jackets are always needed, might as well stock up while the prices are nice. With a sale like this you can get higher-end pieces for reasonable prices or spend less on favorite brands to save up for custom tailoring!
Raving reviews for pants appropriate for the office yet as comfortable as loungewear AND on sale for under $50? Sign me up! The ponte knit ankle pants from Vince Camuto come in regular and petite sizes up to 16 and two classic colors.
It's hard to find a great work pant in petite plus, even harder to find one that doesn't cost an arm and a leg. This pant from Sejour comes in 14W-24W petite and regular lengths and five colors.


Jeans, tees, and sweaters are weekend mainstays. Save on these casual classics and add some new fall and winter trends to your closet!


Control garments, bras, undies, tights, and socks... now is the time to buy them at incredible prices. Luckily most of the items on sale have plenty of reviews to help you choose well, but don't be afraid to branch out and try new brands as Nordstrom offers free shipping and free returns!


The sale has a ton of gorgeous bags on sale, as well as jewelry, scarves and more. Below are my personal faves: