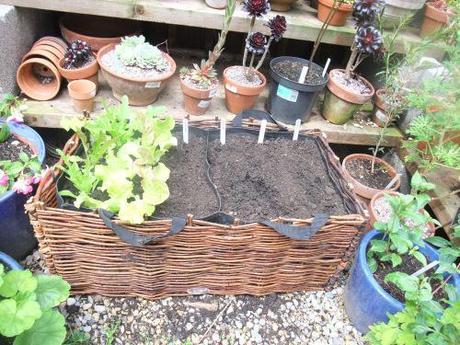 I am on a steep learning curve were edibles are concerned.  I acquired an allotment in November and have been muddling my way along ever since.  I love those bags of salad leaves so I was keen to grow my own at the allotment.  However, I can only get to the plot on average three times a week and I would like to eat salad leaves everyday.  I haven't found a good way yet of keeping the leaves I pick at the plot fresh at home for a couple of days.  Therefore, I came to the conclusion that the only option was to find a way of growing them at home.  I have been pondering getting a raised bed for the end of the patio to go in front of what is termed the succulent theatre!  My son and I have discussed him building me a wooden raised bed but we hadn't got far.
However, when I was watching some of the coverage of the RHS Hampton Court Flower Show I saw the answer to my problem.  During some coverage of an edible garden called the Five A Day Garden I spotted some willow raised beds.  How nice, just what I needed and it would make a nice change to more wood in that part of the patio.  A little research and with some help from twitter friends who had been at the show and I discover that the Burgon and Ball were the suppliers for the showgarden and that I can buy the willow planters from their website in a range of sizes.  A salad/herb planter was duly ordered.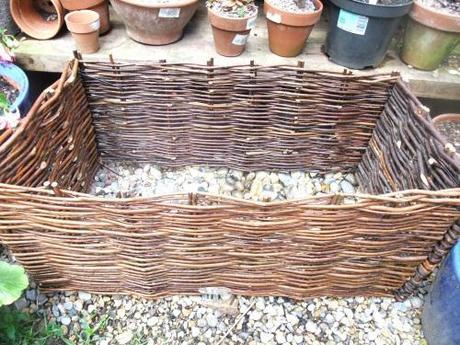 It arrived flat pack and was quick to put together.  You just join the four sides to each other with zip-ties (as above) and then there is a cloth bag which goes inside the frame.  This means that you can easily move the planter around and then when you want to put it away or change the compost you just lift the bag out.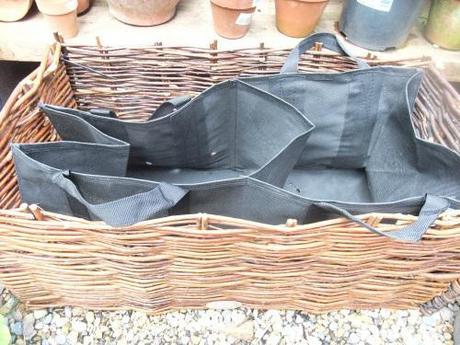 I have filled my planter with a combination of peat free compost for vegetable growing and top soil. I added the top soil to give the compost more substance and also it had a better composition for sowing seeds into.
As you can see from the top picture I have cheated a little by buying some lettuce seedlings to get the planter going.  I have also sown some more salad leaves, some Pak Choi and some spinach.  I will report back and let you know how the crops do.