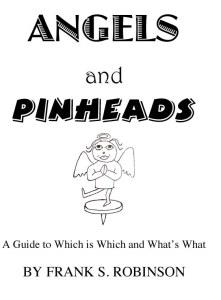 My new book is Angels and Pinheads: A Guide to Which is Which and What's What. In 226 pages it packs 146 entertaining and provocative essays, commentaries, book reviews, etc., on a wide range of topics, skewering numerous sacred cows; the kinds of things you shouldn't discuss at Thanksgiving dinner lest you wind up with gravy and mashed potatoes in your face.
The entries are selected as the best from this blog. Of course you can read them here, but the book provides a handy little package that you can enjoy at the beach or in the john.
It's published by Verity Press International at just $9.95. For more information and ordering details, click here.