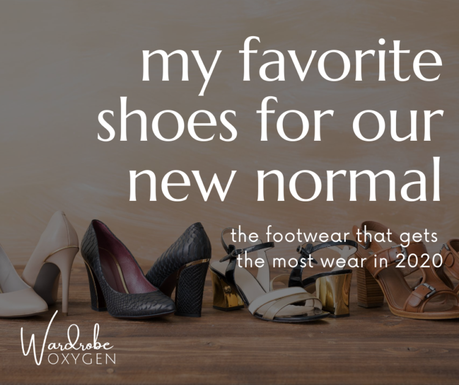 I regularly share shoes on Wardrobe Oxygen - my favorite heels for the holidays, booties for back to school, summer sandals, cute wide width footwear... but 2020 is a year different from any other and with it my shoe wardrobe is drastically different. Priorities have changed, where comfort reigns supreme, shoes need to have function with fashion, and durability is key as they aren't the kind going from taxi to table or being slipped on after a commute. Below are the shoes I've been wearing nonstop this spring and summer and plan on wearing into fall.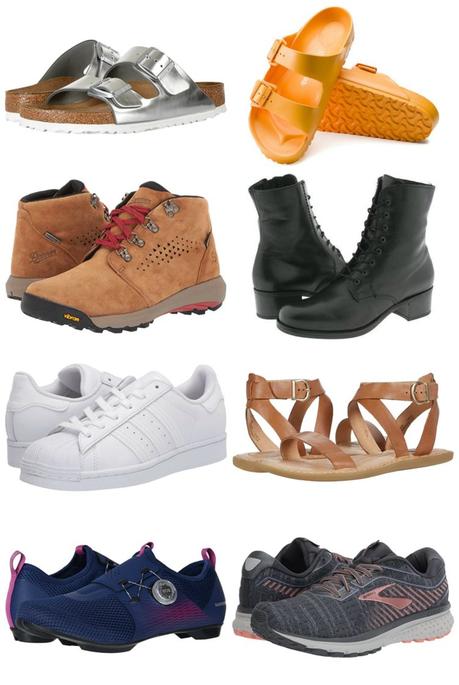 silver sandals | orange sandals | tan hiking boots | black lace-up boots | white sneakers | tan sandals | blue cycling shoes | gray sneakers
Birkenstocks: I had a pair of purple suede Birkenstocks back in the early '90s and wore them to death with my distressed denim shorts with a plaid flannel tied around my waist or a pair of overalls with a bra top and a bandanna over my pigtails. When my husband (then boyfriend) and I moved in together in 2000, I still had those purple Birks. I don't know when I got rid of them but I remember making a stink on MySpace that I would NEVER wear Birks again. And here we are, on my third pair of silver leather Birkenstocks and considering getting a pair in rose gold. The thing is when you're at home and barefoot, your feet start hurting pretty quickly. Knees ache, ankles feel weak, weird aches on the top of your feet, I could go on. And when I put on my Birkenstocks... they all go away. I feel stable and secure and comfortable and properly aligned. I think they look cute with ankle-length jeans, with knee- to ankle-length dresses and skirts, with shorts, with most everything. These have become my "house shoes" because they are far more supportive and comfortable than any slippers. When it was colder and I was at home, I wore them with wool socks and I will again this fall and winter. Birkenstocks come with a Birko-Flor footbed and a soft footbed; I am partial to the soft which I think is easier to break in and has held up pretty well. There are many styles of Birkenstocks but I am partial to the Arizona which works with my wide feet and short toes.
EVA Birkenstocks: This is my third pair of Birkenstocks made from EVA, which is a synthetic waterproof fabric that is also soft and molds a bit to your foot. The past two summers I had them in white and were my alternative to flip-flops, wearing them to the pool and the beach as well as in the yard. I liked that they could handle getting wet, could be hosed off if they got sandy or muddy, I could even buff them up with a Magic Eraser. This year, I decided to add some sunshine to a cloudy existence and switched to orange, my favorite color. I love that they're a fun pop of color with denim, white, black, and so many other neutrals. And because orange is my favorite color, I often have it as one of the colors in my printed tops and dresses. I keep these at the door to be my outside shoes when I hang out in the yard, get the mail, that sort of thing and appreciate the ability to easily wash them. The EVA version of Birkenstocks are far cheaper than the traditional style and are a great way to try out this style of shoe. However, the EVA does stretch out and compress with time and you may not find them as supportive or fit as well after a season. If you prefer a different style of EVA Birkenstock, the Gizeh is a great alternative.
Danner Hiking Boots: Over the years I've bought all kinds of boots and received great boots from campaigns with footwear brands. I have waterproof and stylish heeled boots from Sorel, heavy-duty waterproof boots from BOGS, a pair of cute clearance hiking boots from Lands' End, Merrell boots with special grippy soles for black ice... and right now all of them are so impractical. These days I need boots for when I go to work in our plots in the community garden - boots that are waterproof, flexible, have traction, and don't make me sweat buckets. I want boots for walking through the woods, protecting my ankles from ticks as well as twists, soles that can handle rocky terrain, and don't weigh a ton. I felt ridiculous buying yet another pair of boots, but I had resorted to wearing my La Canadienne boots to the garden and they were just not right for the situation and I didn't want to ruin them. So I did research to find my perfect boot. Criteria: not ugly, not too athletic looking, lightweight, waterproof, would look cute with shorts and with pants/jeans, either made in the USA or at an ethical well-run factory elsewhere, a brand that has partnered with Black influencers or featured Black models prior to the past couple of months, a brand that helps out its community or donates to charity or does some sort of good with their success. I went to multiple sites to read reviews, and then brand sites to find out the ethics of the company that made them. And I went with these boots from Danner. Around since 1932, Danner makes their boots in Portland, Oregon. They offer recrafting, where they will restore their boots if you end up wearing them out over time. They regularly feature veterans and service members on their blog and Instagram and partner with organizations like Team Rubicon and Habitat for Humanity. They've featured models of color in campaigns before 2020 and feature women of color in their blog posts and on Instagram. They even used their Portland factory to create face masks. Danner has a bunch of styles of boots, I went with the Inquire because I liked the classic look, that the brown/red combo was low contrast to my skin which I liked better when wearing shorts, and that reviews said it had a roomy footbed and was good for wide feet. I went with my regular size and they're roomy enough to add some insoles and wear thick socks. They've gotten muddy and sopping wet, been worn for hours on all kinds of terrain and have been comfy right out of the box.
La Canadienne Lace-Up Boots: I bought these boots last year, liking how they were an elegant alternative to combat boots which were all the rage. I loved that they were waterproof while looking sleek and being soft leather. I appreciated that they came in widths, and liked that I could custom fit with the working laces but slip them on and off easily with the zipper. And I've worn the heck out of these boots with longer dresses and tights, over leggings and joggers, under jeans, and more. They're very roomy and I have fit insoles in them. They've gotten muddy and gross and have wiped up and still look like new. These were NOT cheap boots, but I felt the style was so classic that I could wear them for many seasons. And they have worn incredibly well and I know will continue to do so. These are the kind of boots that I will take to the cobbler to resole, have and will continue to polish to keep them looking great, replace the laces, and have boots that will last the years.
Adidas "Superstar" Sneakers: I have two pairs of these sneakers - one that is crisp and white and cute, and one that has been worn a long time and are now all beat up and gross but still worn often. I like these sneakers, I've been wearing this style since high school (back then we called them "shelltops"). They're roomy for my wide feet, not too trendy with lots of logos, not too puffy but solid enough that they look substantial peeking out of wide-legged pants. These are my "trendy sneakers" and I wear them with shorts, with dresses, and with wide-legged pants. They were my favorite sneakers to wear with suits. They're roomy enough that I can take out the insole and put in a new one with support; the beat-up ones were the shoes I wore for every day of the Firefly Music Festival last summer and my feet were happy the whole time. I often find myself grabbing the beat-up ones to complete a chore around the house or yard, and the nice ones are great when I want to look polished even if it's just to take a walk down the block to chat with a neighbor over their fence.
Flat Tan Sandals: The flat tan sandals I have are no longer available, they are from Bella Vita and I found a few styles still left on Amazon in other colors. But these from Born are a really good alternative from a great brand and actually look more comfortable. What makes these great is they sort of blend into the woodwork. No fancy hardware, no chunky soles to m make the shoe look casual, the color is low-contrast, it can dress up or down. And these days, there is little need for anything dressier than this, but it feels dressy in comparison to my Birkenstocks. I wear these with pants, with shorts, and with dresses. It's a super easy way to dress up casual at home looks and not take away from fun prints and fabrics.
Shimano Cycling Shoes: Since I ride my Peloton at least three times a week, I find I wear these shoes almost as much as my Birkenstocks. I like that they are a fun color, I like that I don't have to lace them and there's no velcro to get caught on other things. They're super stretchy so my wide feet have plenty of room and they are breathable. I think I may end up replacing them with mountain bike shoes because those have a more stable sole and I find my feet sometimes ache because there isn't enough stable support. I put another pair of my insoles (I know, I have them in every shoe I can fit them in!) in them and it helped but thinking I'll celebrate some milestone with a shoe upgrade. But in general these are good spinning shoes.
Brooks "Ghost" Sneakers: I don't have this exact pair, the color combo I have is sold out so I shared these because I like the looks of them. I love the Brooks "Ghost" sneaker. It fits great, has good support and is super cushy while being lightweight and breathable. Not good for weightlifting because there is some heel lift which isn't good for leg day, but I love them for cardio , machines, walks around the neighborhood, and any other time you can wear a pair of sneakers.
Now I'd love to hear from you. What are the kinds of shoes you find yourself wearing the most these days?
Shop the Post: