Films:
I Remember Mama
Format: DVD from NetFlix on laptop.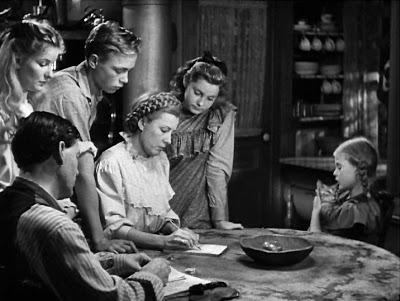 I'm actually surprised that I hadn't seen I Remember Mama before today. This seems like exactly the sort of movie that would have been shown on the old WGN Family Classics show when I was a kid. That was a Sunday morning show that ran old family films like Going My Way, Mysterious Island and Boys Town. I Remember Mama absolutely fits into that. Honestly, it may have been too long for the show.
This is one of those "year or so in the life of a family" films where we're going to see a series of events that happen to a particular family as they (switching into television announcer voice) struggle through the joys and tragedies of life in pre-World War I America. Our family in question is the Hansons, headed by father Lars (Philip Dorn), but really run by mama Martha (Irene Dunne). The Hansons have four children: son Nels (Steve Brown), youngest daughter Dagmar (June Hedin), middle daughter Christine (Peggy McIntyre), and oldest daughter and the storyteller of this film, Katrin (Barbara Bel Geddes). Also in the mix are Marta's three sisters. These are the unpleasant aunts Jenny (Hope Landin) and Sigrid (Edith Evanson), and the timid but sweet aunt, Trina (Ellen Corby).