During the seventh month of pregnancy, there is a Marathi tradition equaliviant to a Western baby shower, Dohala Jeevan. This literally means, the pregnant woman's cravings. The mother-to-be is dressed head to toe in flowers and given all the food she has been longing for. Friends and family gather to shower her with love to help prepare her for childbirth and motherhood. This was such a beautiful but emotional experience for me.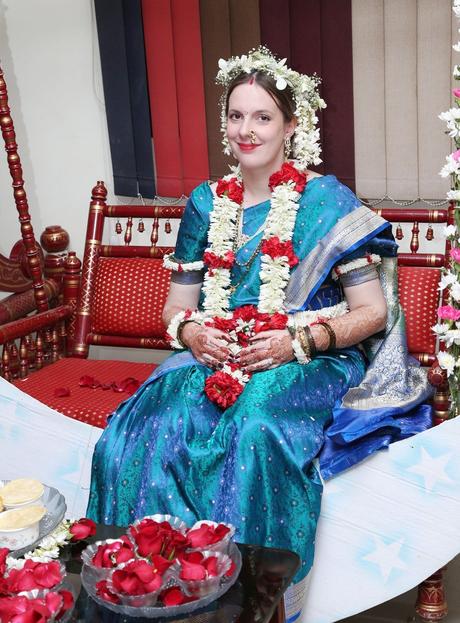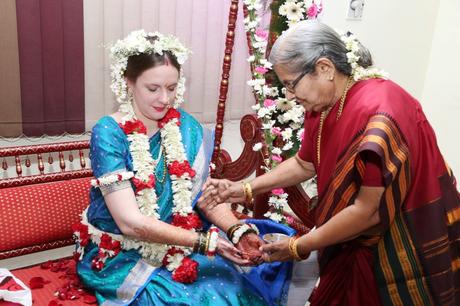 The pregnant woman sits a swing (
palana
) during the celebration. As I was still getting used to my constantly changing centre of gravity, I was a bit nervous at the prospect of sitting on a swing. I was "over the moon" when I saw the decorations and the swing had been stablised by some rope.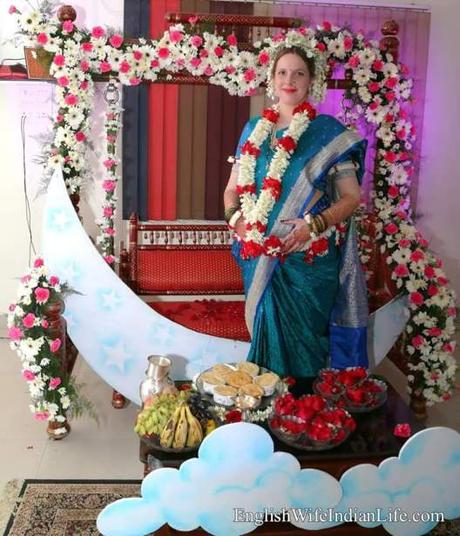 During the celebration, there were several rituals and games. It's illegal to determine the gender of a foetus in India, but one game claimed to reveal all. There were seven types of kheer (a milk based sweet) in small bowls, covered with a poori. I had to pick three to determine the gender. There were three kinds of female kheer and four were males. The kheer predicted I was carrying a girl (even with the odds stacked against it). Never trust kheer.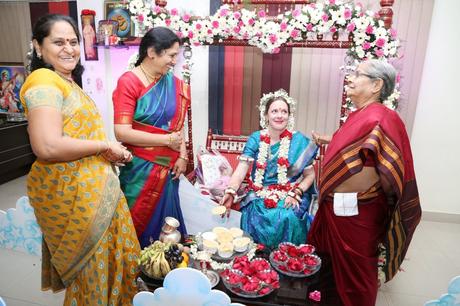 A group of ladies dressed in green sarees attended, trained in Marathi folk dance. They performed a special musical play with nine scenes, a scene for each month of pregnancy. My limited Marathi knew it was funny, the first month a little embarrassing. My mother-in-law told me that a couple of generations ago, the women in the family performed these dances.Unfortunately the tradition is dying, women no longer know the routines, so people hire trained groups instead.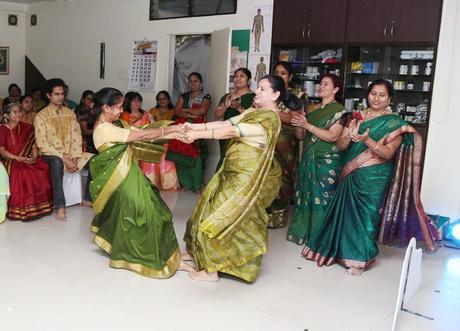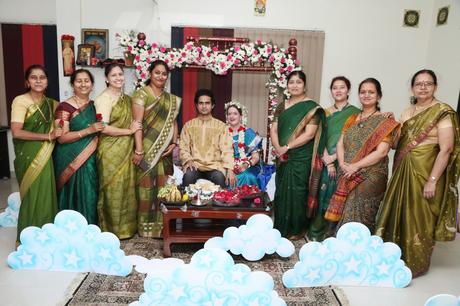 In the West, one of the main focuses of a baby shower is to help the mother prepare for the arrival of her baby by purchasing items for the baby. In India, as it's considered bad luck to buy things for a baby before it's born, the mother receives gifts (jewellery, clothes, dried fruit etc.). The baby is later showered with gifts at their naming ceremony.
After the Dohala Jeevan, it's traditional for the mother-to-be to leave her husband's home and return to her mother for her delivery and first months of motherhood. My mum had come to India to travel back with me, I was so sad to leave but I knew it was for the best. Rohan was due during the hottest month of the year when it reaches 48°C (imagine that with the horrible powercuts). In floods of tears, my bump and I left India. But once we arrived in England, I was really happy to be back. It was so good to see everyone I hadn't seen in well over a year and to be in a familiar environment as I prepared to step into the unknown.