My Lucky Charm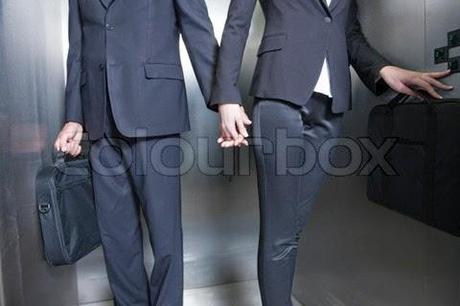 I rushed towards the elevator as I was already late for the meeting. Everything was screwed after missing her glance in the morning. It was my routine since childhood when on a result day I scored ninety percent in a paper I hardly wrote anything sensible after seeing her face in the morning. She lived in adjacent society so getting a glance of her without her knowledge was not a difficult task. Today also I waited for her about half an hour but she didn't come, she had left before me or would come late. Then I saw punctured car,metro was facing some problem and auto rickshaw charge double, nothing happened as planned.
As I closed the elevator door someone hurriedly opened it and came inside. I was shocked to see her in that lift. I always wanted to meet her. Although I looked at her secretly I never got the opportunity to have her so near to me.Neither I tried to say some words of admiration to her. At that moment when I gathered some courage to speak lift stopped. She was looking down in nervousness I could see worry on her face. Documents in her hand suggested that she was here for an interview. I didn't understand what to do at that time. I started blowing air with papers in my hand because fan in elevator was also not working. She looked upwards set her curls and smiled at that gesture of mine. I also smiled and for few minutes we just stared each other in that pin drop silence. My hand automatically moved towards her face when lift jerk shook us. I took back my hand.
After initial movement lift stopped again, she hugged me in anxiety, my heart started beating fast. I too hugged her tightly, lift started moving again when I hold her face in my hand. The door opened. "I have to get off here", she whispered in my ears. I looked around as if waked up from a sweet dream and released her suddenly from my hold. She smiled again and walked out. I saw her walking into an office without even looking back towards the lift where I was standing. My meeting after that was a successful one being able to touch my lucky charm this time. I still looked her silently when I needed some luck and she still walked passed me without any eye contact. That silent relationship is working very well. 
I always thinks that lucky is not the one who have any lucky charm but the one who is getting its luck constantly.This post is a part of Write Over the Weekend, an initiative for Indian Bloggers by BlogAdda.