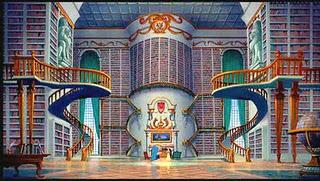 Books have always been my obsession. I've been collecting them for as long as I can remember.
Stacks of books would come home with me from school book fairs, book stores, and as gifts.
The library in my home town used to have sales when they needed to clear space for new books. They'd pick out the books that weren't being borrowed or that they had duplicates of and sell them for just a few cents each. I love the fact that those books still have the due date stamps on the inside covers and the card-catalogue codes taped to the spines. Each one of them still has that delicious library smell.
My favorites are used books. From yard sales, thrift shops, and used book stores. When I purchase books on Amazon, I look for the books listed for only a few cents each. Even once you add shipping and handling costs, they're still cheaper than buying them new at a book store or on Amazon.
And they have a history. Sometimes you'll see where the top corners of pages are creased from being dog-eared. Occasionally a bookmark or a business card or a note will float out when you turn a page, unveiling a little glimpse into the life of the previous owner.
I've never gotten rid of a book. What blasphemy! Every single book I have ever owned still lines my book shelves: SAT and GRE test preparation books, college and high school texts, middle-grade and YA, fiction and non-fiction, scripts, biographies, dictionaries, foreign language books, a thesaurus, encyclopedias, children's books.
With my husband's collection added, we have Dutch comics, books by Dutch authors, reference books in Dutch, and Dutch translations of English novels. His collection also included Dutch-English and Dutch-French dictionaries, and several English language books.
Since I've moved to the Netherlands, I've bought even more books. New and used books in English and in Dutch (to suit my reading levels throughout my Dutch language learning journey) as well as language books from my Dutch classes. Our book shelves are positively bulging!
One of my regrets is that more than three-quarters of my collection is thousands of miles away at my parents' home in the US. I wanted to bring them with me, but there's just not enough room in our tiny Dutch apartment.
We'll be moving into a house soon with more rooms and more space. For Dutch standards, it's a pretty big house, though it's the size of a small American townhouse. Regardless, there will be more room for shelves, which means I can cart more books over from the US. But certainly not all of them.
The plan is to move back to America at some point. Any move back over to the other side of the pond is a good five years in the future at least, but I've already started dreaming. For what we'll be paying for our small Dutch house, we could buy a massive piece of property in the US.
And I already know exactly what I want to do with it.
What I want, more than anything in the world is my own library. That's been my dream since I was a kid and why I started urgently and obsessively collecting books all those years ago (I even used to save all my magazines to have in my future library for reference and leisure, but I got over that the last year or so and went on a recycling spree with all my Dog Fancy, American Girl, Seventeen, and Horse Fancy magazines).
My large American house will have a gigantic room devoted to books. I want a reference section and sections for fiction and non-fiction. There are also enough books for a foreign language section where I can organize books by language. I can create a graphic novel/comic book section and a sizeable children's nook.
Built-in shelves on the wall will be teaming with hardcovers and paperbacks, floor to ceiling. Wall space will not be visible to the naked eye. I'll decorate the room with action figures and toys representing characters from Lord of the Rings,
Harry Potter
and whatever else I can dig out of parents' attics and basements. Maybe even a book poster or two and photos from author book signings.
In the center of the room will be a computer with a card-catalogue system. Just type in the author, genre, topic, or book title to find what you are looking for and where to return it once you've finished. Bean bag and butterfly chairs will be strategically placed about the room to be sat in while enjoying a book. A large desk or table with chairs will also be present for getting any work or studying done.
The first time I saw
Disney's Beauty and the Beast
, my mouth watered when the Beast gifted Belle that gorgeous, humungous library. That would be my dream come true.
So maybe once we've settled in a large house in the US and lived there for a while, I'll start keeping my eyes peeled for a reasonably priced castle. I bet I'd be able to fill a ballroom with books in no time at all!
Image: Walt Disney's Beauty and the Beast
Video: Ennyn, YouTube
© 2011 Tiffany Jansen, writer