I loved the idea of this blog and wanted to share it with you.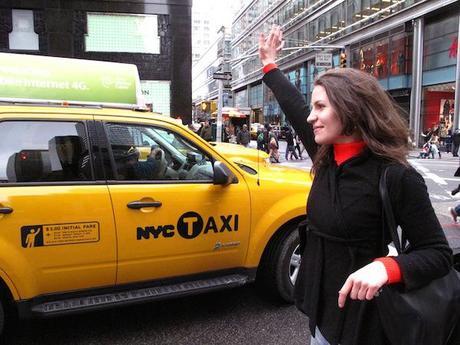 My name is Layne Mosler, and I live in Berlin. The Taxi Gourmet® blog is my search for good, cheap food, guided by cab drivers from around the globe. Every week, I get in a taxi, ask the cabbie to take me to his/her favorite place to eat and document the adventure.

The Back Story
In May 2007, 18 months after moving to Buenos Aires, I left a tango club, hailed the first taxi I saw and asked the driver to take me to his favorite restaurant. When I ended up at Parrilla Peña with a plate of transcendent bife de lomo in front of me, I knew I was on to something.

In June 2009, I transplanted the project to New York City, where Gotham's cabbies shared some spectacular food finds with me: souvlaki in Queens, Ghanaian in the Bronx, and Russian deliciousness in Brooklyn, to name just a few.
After meeting a few lady cabbies who inspired me to do some restaurant reconnaissance of my own, I became a yellow cab driver myself.
When I read a Lonely Planet piece about Berlin cab drivers that claimed they know as much about Nietzsche as they do about sausage, I moved the project to Berlin in 2011, where there's more good food than you might imagine. (If you don't believe me, try some of the places on this map.)
Press
The Taxi Gourmet® blog has been featured on ABC News and MSNBC, in The New York Times, The Wall Street Journal, The Washington Post, The Guardian, and in major media outlets in Argentina, Brazil, Canada, France, Germany and Italy. Serious Eats called it "a great concept" and VenusZine recognized it as "randomness at its most delicious." To see additional press mentions, click here.
About Layne
I grew up in a southern California family of butchers, bakers, failed farmers and fabulous cooks, started working in restaurants at age 17, and was inspired to major in cultural anthropology after my first overseas trip to Russia.
I've written for The Guardian/Observer and NPR Berlin, reviewed restaurants for New York magazine, served as a New York editor for Not for Tourists, written a food column for South American Explorer, reported on restaurants for The Buenos Aires Herald, and contributed to worldhum.com and Time Out. My stories about taxi adventures around the world have also been included in The Best Women's Travel Writing 2011 and The Best Women's Travel Writing 2012.
At the moment, I'm in the middle of writing a book called Driving Hungry (Vintage, 2014), the story behind the story of the Taxi Gourmet blog.
To see a list of my published food writing, click here.