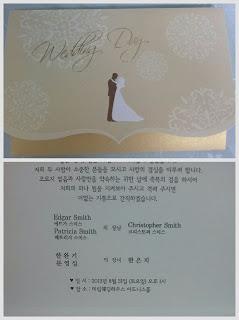 A couple of weeks ago, I had what I thought would never happen, an actual wedding in Korea.  Now, just in case you are confused, I have already been married for over three years, but as I explained in a previous post, this was a British Consulate job.  The reason for it was I was in love and desperate to be with my now wife, despite the fact I was leaving Korea and going home to England.  At the time, I was having such a terrible time in Korea that I thought I may not return, but I could not bear the thought of leaving without her.
I knew that my wife's parents wanted to organize a proper wedding.  Many of their relatives did not know we were married and my in-laws also did not want to tell them because the way we got married was so unusual.  However, I thought it highly unlikely we would have a more official ceremony because they did not have enough money and I was saving to put my wife through nursing college in Australia.  I told them - in a typically Korean indirect manner, (not quite like this) "I will happily have a wedding, but you will have to pay for it."
Much to my surprise, they were able to pay and the great thing about Korean weddings is that you get most of the money you spent on it back through the guests that you invite anyway, as they all give some money. They hadn't broken the bank after all, so my conscience was clear as well.
It all seemed perfect then, didn't it?  I was getting a wedding day and I wasn't paying a penny or indeed organising anything!  Perfect!  The only thing was that both my wife and I were not really looking forward to it.  The reason for this is that we had both been present a quite a few other Korean weddings and, with the exception of one (my Australian friend's rather unique and interesting traditional service) we had hated every single one of them, or should I say hated the thought of our day being like it (I rather enjoyed the food at each occasion).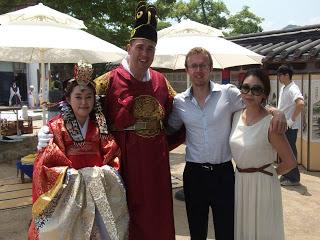 My friend's wedding, a couple of months before mine, was very traditional and it really suited his character.  I could have never pulled it off, but he really did and it was a great day.
Let's start with the venues; the wedding halls that Korean people typically get married in are, to me, the least tasteful places imaginable; flashing lights, stupid themes, and embarrassing performances littered many of the ceremonies I have witnessed.  There is a cringeworthy feeling about the whole thing and a cheapness and lack of class about it all.  This was the first fear for my own wedding, especially as I was sure my in-laws would be trying to do it all as cheaply as possible.
Secondly - partly caused by the venue itself - I hated the atmosphere created by the organisation of the ceremony itself and the manners of the guests.  Wedding Hall marriages seemed to resemble a food hall, with people wondering in and out of the ceremony as they pleased and those from the next wedding waiting in line behind them.  Doors to the back of the room where the service took place would be wide-open; people talked through the readings and the vows and babies cried at the back of the room.  Fear number two for my own wedding, and I could imagine my head exploding at the thought of crying children and nattering old ladies spoiling our big moment.
Lastly, most of the weddings I had attended as a guest had a very anti-climatic feel about them and a complete lack of romance or magic.  The services ended quickly and even though they were fast many people would not stay and hastily embarked for the food before the end.  Unlike an English wedding, there was no big party afterwards, no dance between bride and groom, no drunken antics, and none of the majesty and tradition an old English manor or church can convey.  Korean weddings lacked that special something, that
x-factor
I had seen in most weddings in England.  English weddings were beautiful, Korean weddings were like a factory line of benign similarity, cliche themes, and too much haste.
For all these reasons and more, I was not that optimistic about how my own wedding would pan out.  However, in what turned out to be one of the most pleasant surprises - perhaps of my life - it turned out to be an absolutely perfect day; one that suited my wife and I in almost every way possible and on a number of levels.
You see, the human mind is a strange thing, it yearns for the approval from others and to show-off - a couple of things I have always hated about the concept of getting married - over and above actual happiness, much of the time.  Essentially, most weddings are a big, expensive showing-off exercise that has bankrupted many right at the beginning of their married life.  For one day of extravagance, many people pay the price of an increased financial burden, sometimes for the rest of their married life.  It actually stresses the most important aspect of it all, i.e. the marriage and the relationship itself.  I'm not even going to talk about those who divorce and marry again, incurring even more expense for another marriage.
This was the first burden that was off my shoulders; the whole thing cost us nothing.  In fact, we actually made a few hundred pounds out of it, amazing!  Sounds shallow and money-grabbing, I know, but one can't deny the relief of it and the weight it took off my shoulders.  Added to this was absolutely zero stress in organising anything for yours truly.
A couple of months before the wedding, in about the only thing I had a hand in doing, I went to a couple of wedding halls with my in-laws, and after one truly awful place I was delighted to find quite a quiet, less flamboyant, but classy wedding hall on the outskirts of our town.  My wife's parents weren't that happy about it because the ease of getting there was not quite as good as the other one for all their relatives.  With this in mind, my wife nudged me to make a real fuss about how much nicer this place was (which it really was) to make sure they caved-in to our wishes, so I put on an oscar-winning performance to win them round.  I am glad I did, because I still have not been to any other wedding place in Korea that looked so nice.  Worry number one about the service negated.
Once we had selected the venue, we were taken inside to agree what we wanted for the package, which included a photo shoot.  The wedding photo shoot is what almost everyone does in Korea a few weeks before the wedding and is professionally done in a proper studio.  I had seen the photo albums of this at other weddings and I must admit it was one of the few things that I was impressed with about weddings in Korea.  It seemed a nice touch and was something that would remind us of how we were when we were married - and in our physical prime - in years to come.
I had been warned about the shoot itself from my Australian friend, Darren, who got married a couple of months before.  He said it was about seven hours of posing, sweating, and boredom and he feared for my sanity.  I must say that I have a debt to pay him for telling me about it because, mentally prepared for what was to come, I came through the whole experience in pretty good spirits.  In fact, it was my wife who looked more frustrated with it all, probably because she had more dress changes and attention given to her and her poses had to be more elaborate than mine.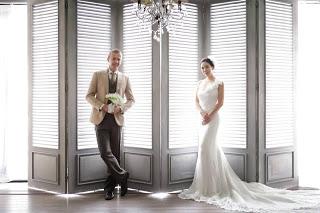 I might be bias, but my wife looked absolutely stunning in all the pictures.
The studio were fantastic and also very efficient in getting the huge number of photos taken back to us on e-mail so we could choose the best for the album and for some photo frames.  I was very impressed with the pictures and was very glad we had it done.  All I had to put up with was a little mickey-taking from back home when some of mates saw the odd photo leaked onto facebook by my wife.  But my wife and I looked great, so I didn't care.
Next week in part 2, the wedding day itself.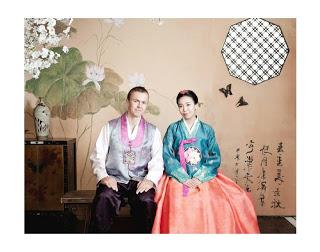 The pictures included some taken in Hanbok as well.