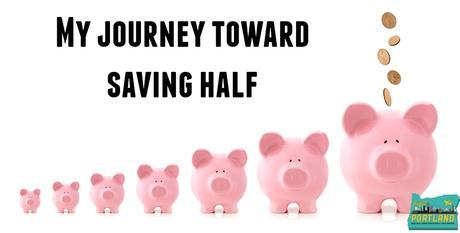 Editor's note: please welcome Chonce Maddox, who is going to check in with us periodically about her journey toward saving half her income. She blogs over at My Debt Epiphany — go check her out, after you read this awesome post!
Every time I hear someone talk about how they can save at least half of their take home income each month I perk up with fascination and  desire to know every little detail about how they could pull it off.
This is how I felt when I first started reading Kathleen's posts when she pledged to save 50% of her take home income. After reading about others who had success with saving half of their income, my insecurities would settle in, and I'd start comparing.
How could _________ cut their expenses by so much? I'm not so sure I could do without ________.
I could never do that. I don't make enough money.
Then one day, something changed in me. I couldn't pinpoint what made me so different from the next person so easily anymore. Everyone has financial issues whether it's debt, struggling to increase income, fighting off lifestyle inflation, or saving and investing enough money to meet their financial goals.
Everyone who currently saves 50% of their income after taxes had to start somewhere and take that leap of faith to increase their savings rate and enjoy the benefits of financial stability.
I'm not quite there yet so I can't offer up a glamorous story about how I'm able to save half each month. But I can invite you to partake on this exciting journey with me as I work toward saving half my income. It's filled with perseverance, hard work and sweat, setbacks, small victories, my happy dance of course, and periodic readjustments.
10% Will Never Be Enough
The 'golden rule' has always been to work hard, pay your bills, put up 10% for savings and do what you please with the rest of your money. There are numerous reasons why saving only 10% of your annual income will not be enough to meet your needs and ensure financial security in the long run.
There's too many unexpected events that life can throw at us. Combine that with my goals of paying off debt, becoming a homeowner, traveling the world, and retiring at a decent age, and it's clear that somethings got to give.
That 10% savings stipulation has to go. It's only prompts us to put a cap on our savings rate and settle for less each time. By saving a sizeable portion of your income, let's say about half, you're giving yourself more opportunity and choices when it comes to deciding how you will live.
Stop Making Excuses
In order to even consider saving half of my income I needed to stop making excuses for why I couldn't do it. In college, I lived on $6000/yr from my part-time job, so why couldn't I do it now? Has lifestyle inflation really gotten the best of me? Am I too good to live on less than my take home income all of the sudden? Am I unable to increase my current income in any way at all?
I had some pretty good excuses too (at least I thought) but it felt great to let them go. I have debt that's holding me back. My income doesn't just support my needs, but I also have to support my son. Oh and I need to buy new clothes whenever the seasons change :)
My excuses were wasting valuable time and effort that I could've spent creating a savings strategy to help me reach that goal that used to seem so unattainable. Once I started viewing myself as one of those people who could save half of their income and still live comfortably, my excuses started to fall apart.
How I'm Making It Work
I love how saving half doesn't mean I have to save all of my money in any particular way. There are plenty of areas in my life that could appreciate some savings. Here are my current savings categories starting with the most important at the moment.
Debt Payments
Emergency Fund
Something Toward Retirement
Car Savings
I'm sure these categories will be forever changing, especially after I pay off all my debt and change my focus toward another financial goal. Here are a few things I'm doing to increase my savings rate and hopefully get it to 50% this year:
Increase my income. I've started freelance writing in addition to my day job :)
Set and stick to a realistic budget. Emphasis on the word 'realistic.'
Instead of eliminating all my wants, I decided to 'frugalize' my needs AND wants in order to cut my expenses even more. This means I'm not living in more house than I can afford, I'm searching for better insurance rates, taking the DIY route when it comes to preparing meals and cleaning my home, maintaining a low cell phone bill with Republic Wireless, and soaking up all the free entertainment I can get to.
Holding Myself Accountable
Setting a goal with no intention of holding yourself accountable is useless. It's important to map out how you will track your progress and who you will report to if reporting to yourself seems all too easy.
Since I started writing online and reviewing my monthly budget and goals on my own blog, I've learned that accountability can be very powerful and effective. When you announce your goals to other people, and they hold you accountable for them, things just seem realer than if you were to make a secret promise to yourself.
So that's why I'm declaring here today, that I'm going to work hard on saving at least 50% of my take home income before 2015 is over. I also joined the MoneyStepper's 2015 Savings Challenge where bloggers and non-bloggers set savings and net worth goals to achieve. Then each month we publicly report our numbers and encourage each other to work toward our annual savings goal.
My goal is a savings rate of 40%, and I'm currently averaging about 35%. But I think with enough determination I can push for 50% this year. With plenty of accountability on my plate, I feel more confident than ever that I can make it happen.
Have you started saving 50% of your income yet? What were your excuses? What are you not going to let hold you back?