Package holidays hadn't been a mood for me since I was a boy child, during that pre-Covid travel grind it was nothing but independent dynamically packaged options for the win! 2022 had to take a dent because I needed that sunshine after the New Year made its appearance. Jet2 Holidays came with the goods! Switching it up, I trusted that the package would be correct! OK?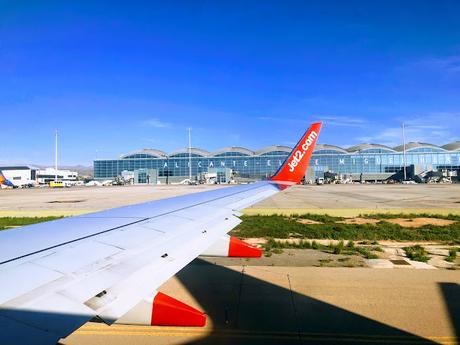 Jet2 had me flying high without any decisions allowed, that packaged holiday to Benidorm, Spain ensured my flights were safely secured. Boarding with confidence, the friendly cabin crew made sure their passengers were catered for in both directions. Taking the flight down to Alicante from Birmingham wasn't any bother, thankfully no delays did transpire during this first outbound leg of the package which I had paid for! Jet2 baby, I'm wanting every penny to be worth my time! It was worth the value! Being a base, my BHX flight down to Alicante departed on-time because the aircraft sat at remote stand on the apron. Boarding a small distance away from the ground level gate area meant a bus took the passengers from the terminal during that early morning hour to our Jet2 plane. Birmingham being a base of Jet2's definitely helped our 07:15 departure! I have to admit that the package holiday concept simplified things. ¡Sí seguro! 
In any usual holiday flight settings I book my flights separately, like when I went to Spain during July 2014 I had things in two categories. With a package in the mix, my flights had been taken care of but unlike many pre-Covid trips those unpackaged holidays didn't need that extra ABTA/ATOL security. Back then such health situations had never got to the stage where any border closures occurred like Miss Rona has subjected the world to. Corona, how very rude of you to shake this world up so severely! You're going to get messed up once this pandemic goes endemic! The 2022 Jet2 flight back to the UK had been wrapped up for us like a Christmas present, secured into our package those proceedings had been taken care for us. Getting those Passenger Record Locators done allowed those boarding cards to be issued, the UK Government really tried us but Jet2 knew we deserved a holiday badly! Faultless flights with Jet2! ¡Sí Jet2!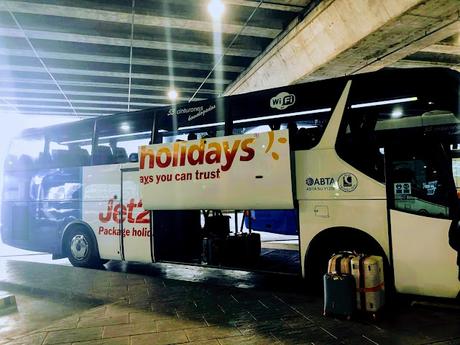 Baby, I wanted no part of that coach trip! Even though I had those feelings, it was nice to have things mapped out once again for us. The Jet2 Holidays coach stood waiting for us on the lower level of the airport arrivals at the parking bays, of course a once in a lifetime snap had to be snapped! My arrivals in China during those numerous Mainland trips before Corona saw me talk that Mandarin talk, keeping things simple at Guilin Airport back in April 2019 had me on a whole different airport coach route. During that 2022 Alicante encounter, things looked a little different with that continental European location but the method of the trip stood the same. The coach journey to Benidorm provided a series of amusing conversations to be earwigged, how their tone reminded me of a certain former ITV inspired series. There's a running theme here! Couldn't you tell? No, I didn't to catch a whiff of one ladies egg and spinach snack! Buckle up, B! 
Getting those Benidorm vibes on point, the Jet2 Holiday coach transfer from Alicante Airport to resort was void of a Jet2 Rep! Why was that? If truth me told we hadn't been told why just the driver would be our only guide into Benidorm, strange? One red wearing Rep did jump on the coach at the airport before we departed, that was only for a brief few moments just to tell us that if we needed any help to report to the Jet2 office during our stay. We didn't question that absence but I remembered from childhood package holidays, we always had a Rep onboard throughout the whole transfer. Covid related? Dropped off at the correct hotel, I was thankful for that smooth coach transfer from Alicante Airport with Jet2 Holidays! Feeling worse for wear, the return transfer back to Alicante Airport from Benidorm picked us up on time! Making it back to the airport in almost one piece, it was like Jet2 had performed a magic trick! ¡Muchas gracias, J!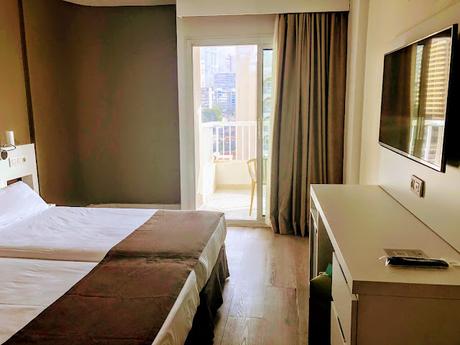 If Benidorm would be the destination of my first international trip since my trip to the USA, then the Sol Pelícanos Ocas had to be our choice of hotel! Featured in the cult ITV series Benidorm, we had to see this hotel for ourselves because sometimes those television shows tell a few white lies! The reception area presented itself with a modern and bright look, things looked as if a fresh lick of paint had been applied! The reception team spoke impeccable English because we all know how appallingly bad those 'Brits Abroad' are at learning the local language when in the already familiar touristic town of Benidorm. I for one know a bit of Spanish from my time working in the United States, I definitely wanted to make an effort speaking with the staff at the Sol Pelícanos Ocas using my best Spanish skills! How would our 8th floor room look? ¡Mirar! With scenes from the ITV show in my head, sure I wanted to see my room! ¡Vamos! Go!
811 at Benidorm's own Sol Pelícanos Ocas looked clean and perfectly formed for the type of holiday we had in mind. Minus tea and coffee making facilities, we weren't about to make a fuss about that absence in the room because we had made it to Spain during the midst of this horrible pandemic. With perspective in mind at all times, the clean and functional bathroom would do the job for the five days just fine. We had no plans to stay in to watch Coronation Street because the long British winter would serve us many nightly opportunities after the holiday. After the first night we found the beds to be comfortable, for the price we had paid the amenities for the time of year suited us well. The room we had at the Sol Pelícanos Ocas left us with no complaints, the nature of the travel rules set by the UK Government ensured a lot less Brits would be present in our Benidorm hotel. Without their noise, that couldn't be a bad thing!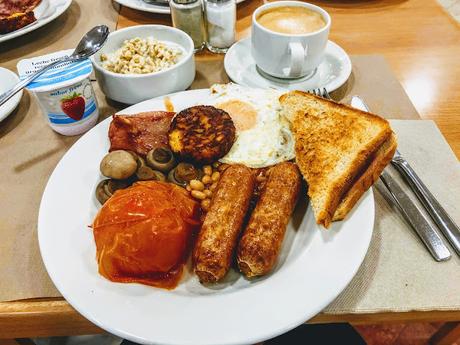 Bed and Breakfast was our chosen board basis, the next morning allowed us to report to the main restaurant at our hotel to see what offerings would be awaiting us. Usually I am about breakfast at a local street-side situation but Benidorm had me spoilt for choice at the Sol Pelícanos Ocas. The wide array of breakfast foods had me stunned in the best way, heading for the English side of the buffet had me impressed. I made myself a stunning plate of what all consisted of a traditional Full English Breakfast because in Benidorm it has to be done! Casting my mind back to that 2019 Inner Mongolia hotel stay near the sand dunes in Dalad, that unexpected hotel choice served up a wonderful breakfast buffet without knowing. Like I mentioned before, those kind of sit down morning affairs are always simpler but Europe had me covered! Set for the day, that high breakfast standard was replicated throughout the hotel stay. 
It wasn't the trip to be poolside because the weather wasn't hot enough for that daily routine, with that said we didn't opt for the usual All Inclusive wristbands. After our day out in Altea, it was time for some pre-night out beverages at the hotel bar. Finding out it was 'Happy Hour' it was a blessing to hear such a declaration! Let me just say the local brandy tasted right in a hot chocolate or three! After Neptune's, it was back to the hotel bar before last orders to enjoy a few drinks. Alex helped me say 'Same Again' the right way and how to say 'Brandy & Coke' the local way in Spanish. That Spanish lesson was appreciated, it was 'la misma' and 'Brandy con Cola' clearly! Those local drinks, damn! When it was time to vacate the bar, we respected the polite request from security. Beni's Sol Pelícanos Ocas provided us with a top stay, our package holiday looked like a neatly wrapped present with those winning components in one place! ¡Adiós! Bye!
Jet2 Package Holidays... Come On Through! 
Joseph Harrison