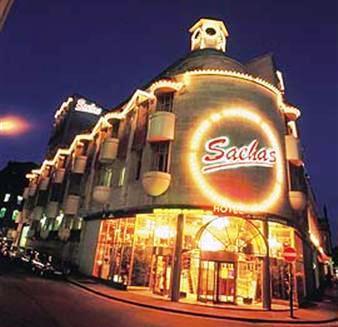 My hotel in Manchester proved to be one of the strangest hotel stays I have ever had.  I was in Manchester  for the Travel Bloggers Unite Conference and after a late flight was anxious to settle in at the Britannia Sachas Hotel located near Picadilly Gardens. I arrived just after midnight and went to open the lobby doors to the Britannia Sachas Hotel in Manchester, to find they were locked.  A doorman came and opened the door a crack "Yes?" he inquired.  I explained that I was a guest of the hotel and wanted to check in.  He reluctantly opened the door for me and while doing so said "OK, but I'm watching you."  How odd I thought as I made my way to the front desk, but he was true to his word and did watch me to ensure that I was in fact checking in.
It took nearly half an hour to check in since the hotel could not find my reservation, despite the fact that I had brought a copy of it with me and no apology was given for the long check in.  At least I had entertainment though, as another guest tried to sneak in his scantily clad "lady friend" who the hotel refused to let in since they had a no visitor rule after 11:00pm.  I must give the other guest credit for providing entertainment though at such a late hour when I was tired and had to bite my lip from laughing when his meek defense came out "But she will only be a visitor for an hour or so."  I don't know what the end result was for him and his "lady friend" since as soon as my reservation was figured out, I was off to my hotel room.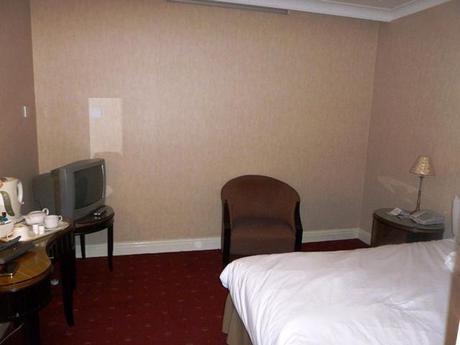 Can you see what's missing from my hotel room?
Upon opening the door to my hotel room, it looked like a normal hotel room – bed, small desk with a kettle, t.v, decent sized bathroom and most importantly, it was clean.  Despite looking like a normal hotel room, something felt rather strange about it.   It took me almost a minute to figure out what was missing.  Can you tell by the photo above?  Scroll down for the answer.
A window!  My hotel room was missing a window, which made the room feel very claustrophobic.  Although I found my stay at the Britannia Sachas Hotel in Manchester rather amusing, I won't be staying there again.
What's the strangest hotel experience you have had?
You may also be interested in:  My First Impressions of Manchester
Note:  I paid for my hotel stay in full, no compensation was given and not surprisingly this is not a sponsored post.