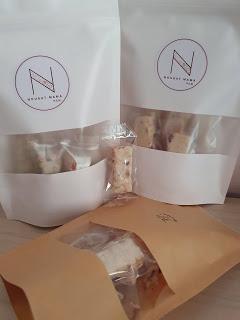 Whee~~ new stuff that you can load up in your home pantry. Quite honestly, I am pretty sian by now.  Can't wait for this Covid shit to be over. Even if it is over, we probably can't travel yet and I can be certain that all the travel funds would go into food/ snacks, so I thought this is a good time to do such reviews for the benefit of everyone)
I hope you guys like nougats cos I found a homemade place, Nougat Mama. These nougats are the soft, chewy type (like those I had in Taiwan) and is quite hard to find in Singapore. I tried out their signature and cranberry flavor.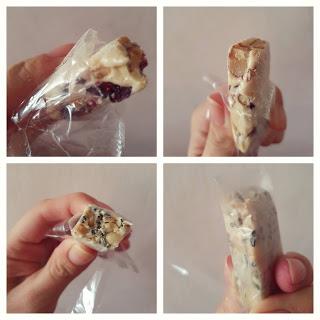 It comes complete with the rice paper at just $9 per 100g. One thing I have realised about home bakers/ producers, their products are always packed with healthier ingredients. They don't stinge on quality for sure! Personally, I prefer the Cranberry nougats because they are sweeter and I like the contrasting flavor and fragrance between the nuts (almond and peanuts) and the cranberry.
If you are into a slightly more bitter taste of sesame, you might love the Signature. Apart from sesame, it contains walnuts, peantus and goji berries. Moving forward, the nougats will be packeted in really cute packaging and latest updates: they have free delivery till 13 June with no minimum spend, a great time to give it a try if you ask me...hehe