Follow along with me tomorrow night as I see the opening night of Half Life. I'm always interested in what REDCAT offers, but this story hits close to my creative home. From their press release:
Weaving together narrative and abstract modes of storytelling, Half Life explores the psychological fallout of global disaster, and how it affects our emotions and imaginations. It's story centers around two women who literally and figuratively live on opposite sides of the world. When an unknown cataclysmic force disrupts both of their lives, each is compelled to embark on a journey to locate its source.
I have a history with shows about nuclear fallout. From 2004-2011, much of my life was consumed by one project, Voices From Chornobyl. During those years, it had been presented in both the US and the UK to raise money and awareness of the nuclear accident (inspired by Svetlana Alexievich's interviews). Its companion piece Voices From Chornobyl Jr. premiered and won Best of 2011 Fringe.
All the info is below. Follow my experience on twitter, Facebook & instagram. 
REDCAT Presents the World Premiere of
Half Life
The newest work from Los Angeles Multimedia Collective
Cloud Eye Control
Thursday, January 15, 2015 to Sunday, January 18, 2015
NOTE: They sold out the entire weekend and so added a Saturday matinee at 4 p.m. on January 17th.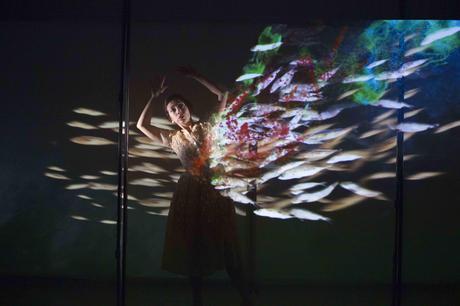 Photo Courtesy the Artist.
(Los Angeles, CA) — REDCAT, CalArts' Downtown Center for Contemporary Arts, presents the World Premiere of Half Life, the newest work by Los Angeles multimedia ensemble Cloud Eye Control, Thursday, January 15 to Sunday, January 18, 2015.
Cloud Eye Control was formed in 2006 by the Los Angeles based trio of animator and media artist Miwa Matreyek; composer, writer, and performer Anna Oxygen (Anna Huff); and theater director Chi-wang Yang, all known internationally for their stunning work individually and as a multimedia collective.
A deeply expressive lamentation of fierce urgency, the latest multimedia production from Cloud Eye Control is an imagistic, visceral work inspired by the nervous fear felt in the wake the 2011 Fukushima Daiichi nuclear disaster. It features Cloud Eye Control's signature hybrid performance style that mixes projected animation, live performance, and a live soundtrack of original electronic music.
Cloud Eye Control transforms the stage into an imaginative landscape with several customized, moveable screens full of lush animations where live actors interact in the layered space to create imaginative and odd encounters between the virtual and the physical. The original score, sung by the performers with a live band, brings a rock concert dynamism to the moody and atmospheric world.
Cloud Eye Control's Half Life is part of a continued supportive relationship with REDCAT. Cloud Eye Control'sUnder Polaris, anepic journey across a vast arctic expanse was co-commissioned and premiered by REDCAT in 2009. The piece went on to tour nationally and internationally, to Chile and France, and helped establish Cloud Eye Control as "transcendently spectacular theater" – Los Angeles Times.
In 2014 REDCAT presented Cloud Eye Control member Miwa Matreyek's magical, visually rich fusion of intricate video animation and solo performance to sold out audiences that were left spellbound.
More on Cloud Eye Control can be found at their website, http://cloudeyecontrol.com
Artist bios:
Miwa Matreyek is an internationally recognized animator, designer, and multimedia artist based in Los Angeles. She creates animated short films as well as live works that integrate animation, performance, and video installation. Arriving to animation from a background in collage, her work explores how animation transforms when it is combined with body, both physically in her performance pieces, as well as a composited video element in her short films. Her work has been shown internationally at animation/film festivals, theater festivals, performance festivals, as well as art galleries, science museums, tech conferences, universities, and more.http://www.semihemisphere.com
Anna Oxygen is the stage name of multi-media artist, composer and performer Anna Huff. She has extensively toured Europe and the United States performing musical and interactive performance pieces. She has released several albums of electronic and acoustic music, most recently This is an Exercise on indie label Kill Rock Stars. Her performance and video work has been presented at PS1 MOMA Contemporary, The Seattle Art Museum, LACMA (LA), NYU, The Armory Center for the Arts (Pasadena), The Portland Institute for Contemporary Art, and the Rohsska Museet in Gothenburg, Sweden among others. http://www.annaoxygen.com
Chi-wang Yang is a Los Angeles-based director of theater and performance. Whether in the form of plays, operas, concerts or installation; his work is physical, experimental, and collaborative. He is committed to expanding notions of identity and theatrical form and to exploring the unstable intersections of body, narrative and technology. His work has been presented at theaters and galleries internationally, including REDCAT, Baryshnikov Arts Center, Havana International Film Festival and the Edinburgh International Festival Fringe. Recent directorial projects include They Are Dying Out, by Peter Handke, and The Closest Farthest Away/La Entrañable Lejanía, a groundbreaking international collaboration between American and Cuban artists.http://mysteriously.org
"Magical…unlike anything you've seen before… transcendently spectacular theater" —Los Angeles Times
Cloud Eye Control: Half Life
Thursday, January 15–Saturday, January 17, 8:30 p.m. and
Sunday, January 18, 3:00p.m.
NOTE: They sold out the entire weekend and so added a Saturday matinee at 4 p.m. on January 17th.
Tickets: $16-$25
Location: REDCAT | 631 West 2nd St. Los Angeles, CA 90012
For more information call the REDCAT Box Office at 213-237-2800
Or visit: http://www.redcat.org/event/cloud-eye-control-half-life
Half Life is produced with Los Angeles Performance Practice, and was made possible in part by a creative residency with the CalArts Center for New Performance.
Half Life is funded in part by the New England Foundation for the Arts' National Theater Project with lead funding from the Andrew W. Mellon Foundation; the LEF Foundation; and The MAP Fund, a program of Creative Capital, primarily supported by the Doris Duke Charitable Foundation.