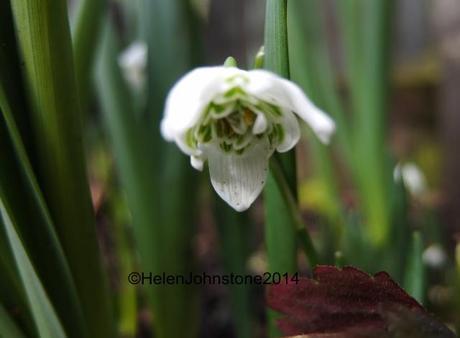 Galanthus nivalis f. pleniflorus 'Flore Pleno'
There has been a preponderance of pondering going on over recent weeks and not much activity in the garden due primarily to the interminable wet weather which we won't dwell on as everyone is weary of it now.  Even I, the inveterate optimistic, find my patience wearying out. Saturday was a complete waste of time garden wise – wind and rain, however Sunday saw a rare blue sky and the sun attempting to shine through; so a chance to spend some time outside.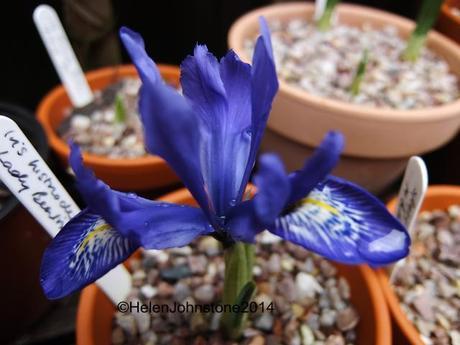 Iris histriodies 'Lady Beatrix Stanley'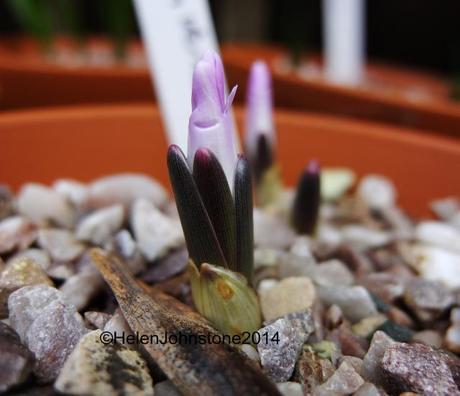 Bulbicodium vernum
The patio staging is beginning to have some floral gems showing.  All the pots have shoots showing but I am particularly thrilled by the Bulbicodium vernum.  I have never grown this before and bought it on a whim when ordering other miniature narcissus bulbs.  I am completely entranced by the plant: the deep maroon of the shoots and the almost silk like petals.  I hope that when it opens fully it will continue to be marvelous.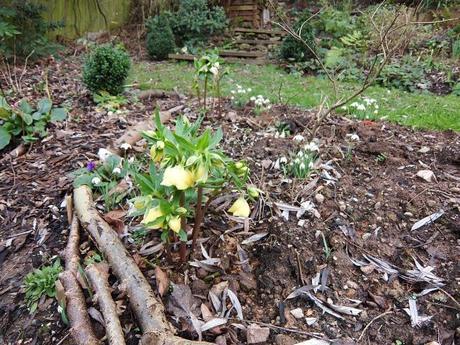 The outstanding stars of the garden at the moment are the Hellebores which are just opening their flowers.  I am thrilled that the two I bought from Ashwood Nurseries last year have not only reappeared but are flowering profusely especially as I lost the Hamamelis I bought at the same time. There are some other hellebores which grow on the top of the wall along the patio and the lighter coloured flowers are opening whilst the dark purples are still tight buds.  I am thinking that I should add some more hellebores to this border possibly following the line of the path and maybe interplanted with some small ferns.  I have yet to really come up with a plan for the whole border so this might be a good starting point.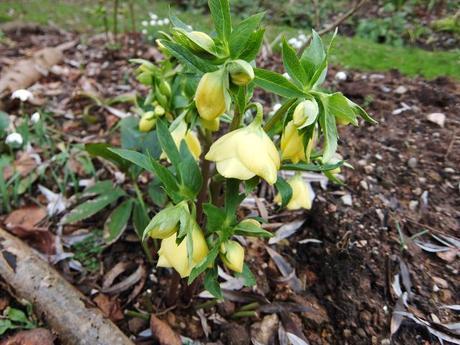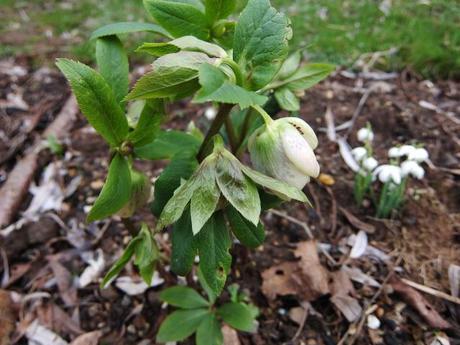 As you can see in these photographs there are snowdrops opening and around the hellebores it is Galanthus nivalis f.pleniflorus 'Flore Pleno'. My friend Victoria gave me several pots of these from her new garden last year and I am really pleased that they are flowering since they were neglected for a while on the patio.
I spent an hour or so today in the sun picking up twigs and branches that had been blown down.  It never ceases to surprise me how many branches and twigs can come off two trees and there still be an extensive canopy overhead. I then finished off cutting back the grasses including giving the Stipa gigantea a real haircut which I may or may not regret later in the year.  Sadly the sun disappeared and a cold wind appeared forcing me into the garage and to pot up some Jasione laevis which I grew from seed in 2012, hopefully this year they will flower.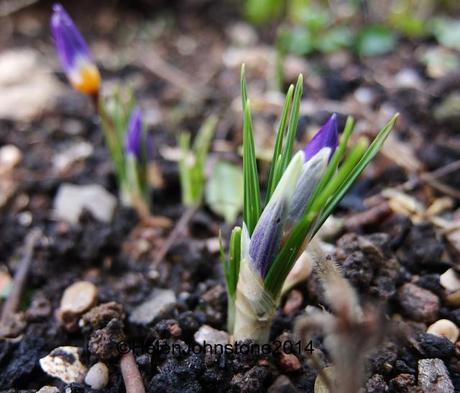 Crocus sieberi tricolor
As I have said before one of the things I like about Spring, which surely is only around the corner, is that you  really focus on the individual flowers unlike Summer when you tend to notice the overall impact rather than the individuals.
Hopefully soon we will all be able to start really enjoying our gardens.