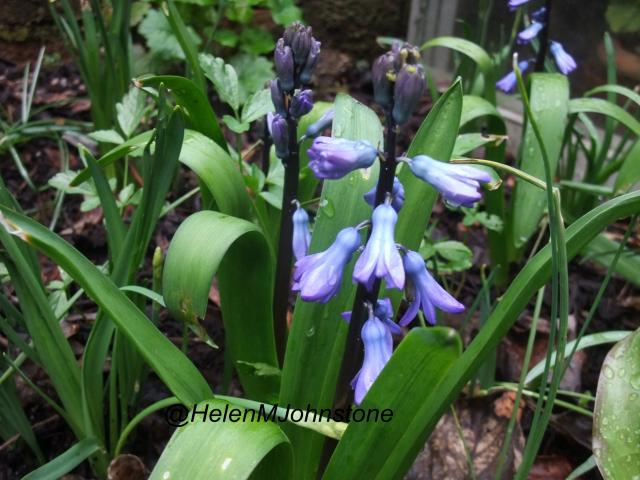 This weekend has been a typical April one – quick short showers with intermittent sunshine.  It seems ages since we have had weather that is typical for the time of year.  The garden is really bursting with new shoots and with the rain this week everything is looking a lot fresher and greener.  I do believe that there is something in the light that comes with showery weather which is just right for showing off spring flowers.
I am showing hyacinths in the top photo since I have a particular fondness for them.  Every year I buy a pot or two from the local supermarket to have them flower indoors and then I plant them out in the garden.  I have noticed that the colonies in the garden are expanding so maybe I need to find another location for this year's purchases.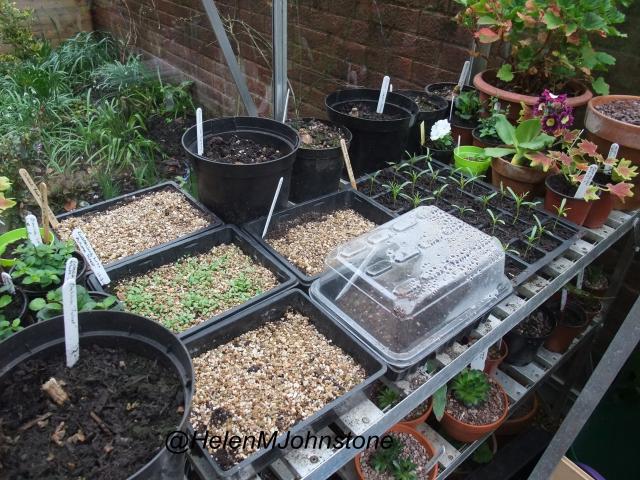 I have been gardening like mad this last week as I am mildly panicking about how much I have to do and how much I want to do.  I have been squeezing in thirty minutes to an hour in the evenings after dinner and it has made a huge difference.  It is amazing what you can achieve in a small window of opportunity if you are focussed.  I have started to tidy the front garden, tackling the difficult corner.  I have done potting up, seed sowing and planting out.  Its been a bit of a push as I am always tired when I get home from work but I think it has had a beneficial impact on my mental welfare as well as slowly reducing the 'to do list'.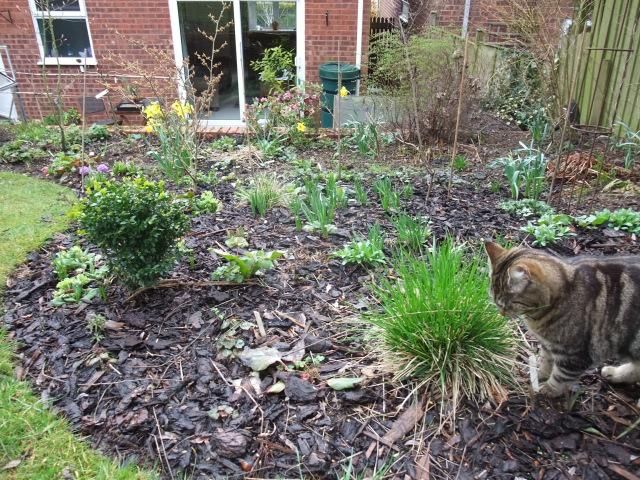 Having spent the morning on Saturday looking at sheds/workshops with my son and making decision on what he will be getting, the afternoon's gardening was rained off. I can't complain as the garden really needs it.  I have noticed recently how everywhere looks so brown and gray.  The fields haven't had that lovely spring freshness we are used to.
As you can see the cat is a keen gardener and has a penchant for grasses.  Unfortunately this means that instead of graceful grasses I have stumpy ones!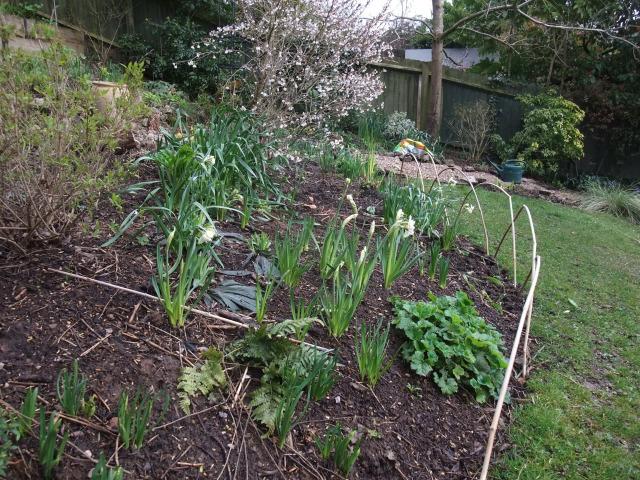 Sunday morning brought sunshine first thing so with rain forecast in the afternoon I decided to make an early start.  I am pleased to say that to date there has been no evidence of the badgers coming back into the garden.  The border above was very trashed by them but it seems to be recovering now although I think I lost a few daffodils in the process which is a pity.
I spent the morning sowing seeds – 29 packets in total.  The majority of seeds from the Alpine Garden Society or Hardy Plant Society and are therefore sown in small pots which is lucky as there really is no spare space in the greenhouse.  I have been assiduously logging all the seeds sown on an Access Database and so far I have kept up to date with recording information about germination etc.  My database tells me that I have sown 109 packets of seed so far this year.  Favourites are Aquilegias (4 different types), Delphiniums (4 different types), Primulas (8 varieties) and Geraniums (4 varieties).  I am thrilled that I have Meconopsis napaulensis germinating in the cold frame, the second batch, as well as Peonies, Trilliums and Lewisia.
I also planted out the Variegated Portugese Laurel in the front garden and dug up a vine from the back fence.  I plan to stain the fence,  weather permitting, in the evenings this coming week so I can plant out the pyracantha which I have bought to screen the fence.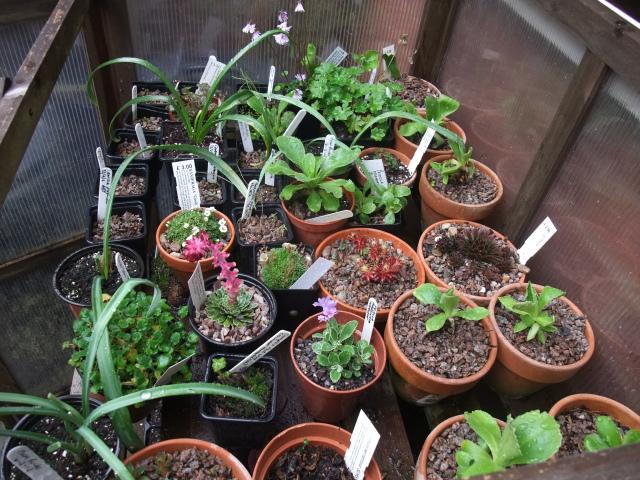 Above is a shot of my wooden cold frame where my new alpine acquisitions live along with various ones grown from seed.  I love opening this cold frame in the morning and seeing what is flowering and what has germinated.
I am pleased to say that  I don't feel as panicky as I did a week ago and I am telling myself that if things don't get done they don't get done – it is a hobby after all, not a job!!